Walkers are very helpful to seniors, especially those who need help staying on their feet.
Manufacturers offer a variety of models, each with different designs that seniors will surely benefit from.
But where can you buy one?
In this article, you'll learn the best places to purchase walkers for the elderly!
The Best Places to Buy a Walker and Walker Accessories
You have two main options on where to buy walkers for seniors: online stores and physical stores.
Online stores have a shipping cost, and it might take 3-5 days before you get the item.
On the other hand, if you have the time to stroll and look at the best walkers in town, then physical stores are for you!
We'll talk more about each type of shopping below:
Online Stores
Online shopping would actually be the best option when purchasing a walker for the elderly.
You can do this at the convenience of your home!
You can also see how other customers talk about products through user reviews, which helps ensure you get the best item.
Also, an online store will help you easily identify the best product type and your preferred choice of color/model at an affordable price. There can be so many options to choose from on a single website!
Below are the online stores where you can get great deals:

Amazon is one of the best-selling online platforms. Whether or not for mobility aid purposes, their products are high quality and durable.
If you are looking for a rolling walker, Amazon is the best platform to use! It has over 620 listings of walkers, making it a GREAT place to look for the perfect one.
What we love about Amazon is they have LOTS of different options and brands for lower prices. You can also count on thousands of reviews from actual users.
An impressive thing that sets Amazon apart from other online stores is that the item can be delivered within 2 days if you are a member of Amazon Prime!
Senior.com is a seniors-oriented online store that offers various products for the elderly. If you can't find the product you're looking for on Amazon, Senior.com is the BEST alternative!
Senior.com has a standard delivery of 2-6 days, depending on your location.
TAKE NOTE: Senior.com is doctor-recommended, and you can purchase quality mobility aid products with a few taps.
eBay used to be the #1 online store. But because of poorly made products from China, it eventually fell out of favor.
However, you can still get great deals on walkers at eBay!
Like Amazon, you can browse and compare every product type regarding its features, cost, and customer reviews.
Physical Stores and Pharmacies
If you are not a fan of online stores, then physical shopping is also a good option!
A good thing about physical shopping is you can test the item before buying it. Physical shopping is also ideal if you want to immediately use any product.
If you're interested in physical shopping, below are the shops you can consider:
Walmart is one of the leading stores in the United States. You can find Walmart stores in every state, so visiting one won't be a problem.
Walmart has a section for elderly items, too. So, whether you're looking for a standard or rollator walker type, you can buy one at Walmart!
Walgreen is also popular in the USA. Walgreen is considered America's favorite pharmacy for health and beauty, as it promotes health and wealth.
You can get some best deals on walkers for seniors in this store, and it's also doctor-recommended.
Some Target stores don't have a wide section of walkers, so they're not the most ideal. Because of that, the chances of buying the best one are slim.
Target only has limited walker options you can buy, making it unsuitable for selecting the best item.
Other Pharmacies
Pharmacies are doctor-recommended, and you can also buy any type of affordable walker for seniors with excellent quality.
This is the best option if you want to save time since you can simultaneously buy other needs, like medication.
Factors to Consider When Choosing Where to Buy Walkers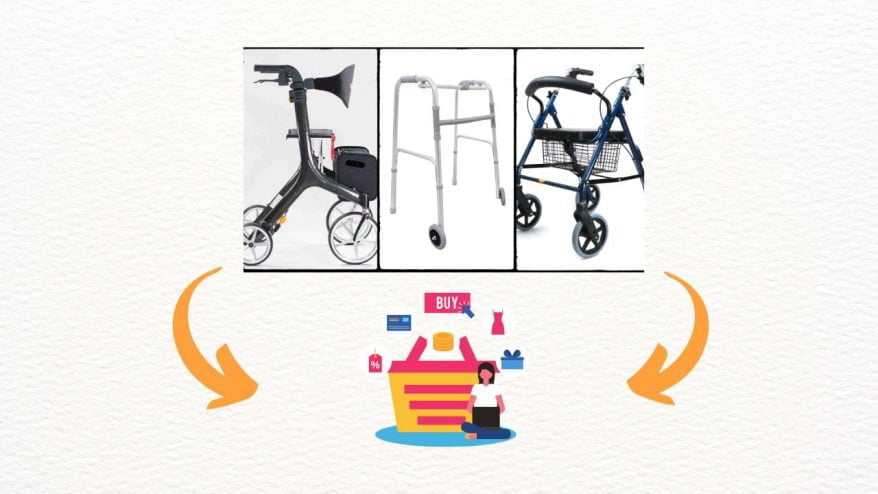 There are many types of walkers for elderly, so to find the best one, we'll talk about factors you must consider:
Prices
Prices are crucial when purchasing. There are several products in online stores that offer more affordable prices than physical stores.
However, it will have an additional shipping cost that might be a burden. Thus, assess which option costs less if you can't afford to shell out too much money.
You can also look for nonprofit organizations and ask if they have donated walkers you can avail.
Wider Selection
Walkers are the best mobility aid for seniors. Thus, a wide section of products is needed.
Both online and physical stores offer this, but online stores have a wider selection.
But if you want one with a wheel, it might be best to purchase from a physical store to try it out first.
Convenience
Convenience must be put on TOP when purchasing. Here, online stores offer more convenience than physical stores.
Returns/Refunding
Online and physical stores have different return/refunding methods.
If you want a quick refund for worst-case scenarios, we suggest purchasing from a physical store.
Frequently Asked Questions
Is It Easier to Buy a Walker Online or In-Person?
BOTH! You can easily buy a walker either way, so just choose which gives you more convenience.
Are Walkers More Expensive Online?
Not necessarily! Online stores often offer great deals, with a standard cost of $35 to $100, depending on its mobility, key features, and type.
Do You Need a Prescription to Buy a Walker?
No, you don't need a doctor's recommendation to purchase a walker for seniors, but a doctor may suggest it for mobility aid purposes.
You can also talk to them about the best type to buy.
Conclusion
Mobile aid tools like walkers are available in physical and online stores.But if you want to try a product before purchasing, physical stores are for you. However, online stores are the best option to purchase without leaving your home!