Seniors experience diminished physical capabilities — which can lead to difficulty walking. In this case, a physical therapist can help determine if they need a walker to maintain mobility.
Walkers will help them keep their independence and physical activity levels high despite having balance and mobility issues. Many brands offer walkers with distinct features, and looking for the best one may get confusing.
This is why I've reviewed the 10 best walkers for seniors and grouped them into distinct categories.
The 10 Best Walkers for Seniors – Full Reviews
Out of all the brands I tested — from NOVA to Drive Medical — I found 10 walkers that best fit different categories
Read on!
The NOVA Traveler rollator is ideal for maneuvering in tight spaces. It's a folding walker that can firmly stay in a standard folding position for easy parking and storage.
Its locks and brakes are feather-touch, meaning you can easily engage them with minimal strength. It also features natural rubber wheels that work great for indoor AND outdoor use.
The NOVA Traveler has a few accessories, like removable storage and a tray to carry food and small items.
This product is covered by a lifetime limited warranty on the frame and a 5-year warranty on brake accessories.
The Helavo foldable all-terrain walker is the best choice if you like strolling outdoors or indoors.
It has 8-inch wheels that easily move to reduce vibrations and ensure a comfortable ride on rough surfaces. On the other hand, the handles are ergonomic, sturdy, and offer the best grip.
It'll stay firm and stable on any terrain, whether wet, dry, rocky, or flat!
Despite having large wheels, you'll have no problem maneuvering this rolling walker because they offer OPTIMAL STEERING, and its narrow design allows it to fit in most doorways.
It's also lightweight and portable due to its toolless folding mechanism. It even comes with a spacious seat and supportive backrest. You'll surely love bringing this around!
Features:
Memory foam seat/padded backrest
Adjustable height
Spacious
Includes several accessories
The Medline Premium Empower Rollator Walker is probably the best upright walker you can find on the market.
It has an adjustable backrest and height, which supports seniors standing from 4'11 ft. to 6'4 ft. It also features a memory foam seat that you can lift to create more space within the rollator.
The chair-like seat can also be flipped and become a cushioned backrest that's comfortable for seniors tired from walking.
It has a standard weight capacity of 300 lbs. like other rolling walkers — but it's lightweight and easy to transport at 17 lbs.
It also features accessories like reflective tape, a tray organizer, a cup holder, and a seat storage bag.
Despite being a four-wheeled rollator walker, this Hugo Mobility Side-Fold Rollator Walker only weighs 15.4 lbs.
Plus, it's easy to fold and put away when not used. It saves you A LOT of space in your home and can easily be stashed in your car trunk!
Aside from this, the Hugo Mobility Side-Fold Rollator has a built-in seat, a contoured backrest for extra comfort, and a machine-washable mesh bag to store your things.
This device is designed for INDOOR use because it's light, foldable, and has a narrow width of 21 inches.
This walker easily fits into any doorway and won't take up too much space in your apartment!
It has ergonomic hand grips that cushion each finger from joint pain and will surely bring you comfort and ease on the go.
You'll also love the cup holder, tray, and organizer pouch to store belongings in while strolling.
This walker features eight-inch wheels that easily swivel for OPTIMAL STEERING in tight spaces.
If you're among the taller seniors, this Walkmate rollator walker is my best bet to cater to your needs.
It suits seniors who stand 5 ft. to 7 ft. tall. It also features 10-inch front wheels with an anti-skid pattern to prevent slipping.
The large wheels on this walker are MULTI-TERRAIN. You don't have to worry about your rollator's wear and tear, especially when strolling on rough surfaces.
The Walkmate is powered by a dual-brake system that easily controls the speed and acts as a parking brake to lock the walker when you need to sit on its padded seat.
Other good features of this walker are its detachable storage basket to free your hands from the additional load, and hidden brake cables to reduce the risk of injury or falls if it accidentally catches onto something.
The Lumex rollator walker is the best device for short users and customers on a budget. It has a lightweight frame and ergonomic adjustable hand grips.
Its padded seat sits 22.5 inches from the ground and is 27.5 inches wide, making it comfortable for average-sized users. On top of that, this rolling walker is lightweight, weighing only 14.5 lbs.
The Lumex has four six-inch wheels made of solid rubber, making it MAINTENANCE-FREE. You won't need to worry about flat tires when strolling.
The brakes on this walker are also easy to engage, especially for seniors with weak grips. They're also equipped with locking mechanisms to prevent unintentional rolling.
This walker from Medline is made of a HEAVY-DUTY steel frame that can support up to 500 lbs.
This increased weight capacity is coupled with a built-in padded seat wider than other walkers to ensure the customer's comfort. The handles are adjustable for a customized fit, while the large wheels allow for a smooth ride.
This rollator walker folds flat for convenient storage and transportation. The entire device weighs 25 lbs., while the height from floor to seat is 22 inches.
The Medline Heavy Duty Rollator is one of the best choices for people who need MORE SUPPORT and aim for EXTRA COMFORT.
Unlike the others, this two-wheel walker has a detachable seat.
It also has ergonomic handles that help you to stand upright from a seated position. It even serves as a toilet safety frame in the restroom!
It also has a sturdy construction that can support up to 350 lbs. This is thanks to a 1.13-diameter anodized aluminum frame and the two five-inch wheels in front.
For this product, HealthLine offers a limited warranty for 3 years, a 30-day product guarantee, and a 60-day unconditional return policy.
The Drive Medical One Arm Walker is one of the best standard walkers on the market today. Thanks to its wide base, you'll be able to use this to get enough support.
Plus, it's designed to be folded and carried with just one arm.
This Drive Medical walker is much lighter than your usual walker, yet it's still sturdier and more reliable than a cane. I'd rather use this over a traditional cane because it gives ENOUGH assistance.
Hence, if you don't need as much support as a rollator, I suggest getting this assistive device. This is ideal for people who weigh 300 lbs. and below.
What Is a Walker and What Are Its Benefits?
A walker is a mobility aid for people who have balance and stability issues. Such physical health problems are mainly seen among older adults as their bodies and performance degenerate.
They've begun ditching the traditional walker and canes and adapting to modern options that are more comfortable, ergonomic, versatile, and highly functional.
Walkers for seniors offer stability for both sides of the body since it has more points of contact with the ground. It also ensures the safety and independence of the elderly in their daily activities.
With these mobility aids, seniors can also stay physically active to keep their bones and muscles strong. It also enables blood circulation and has plenty of psychological benefits, too.
Walkers for seniors help boost confidence, especially for those who find it difficult to move around often. Plus, it also reduces the risk of falling accidents.
The Main Types of Walkers for Seniors
There are many types of walkers for seniors that you can find on the market.
But you can categorize these mobility aids into three main types: standard walker, front-wheeled walker, and rollator walker.
Standard Walker
A standard walker is the most common walker used by seniors. It has four legs and is commonly made of steel, carbon fiber, or a lightweight aluminum frame.
It DOESN'T have special walker features like the others. But it's still used for plenty of reasons.
Some standard walkers can be folded, and most of them are lightweight. It's also an ideal walker for older adults who dislike clunky devices.
Unlike other types, these are EASY to find in medical supplies and drug stores (You might even find some donated walkers near your area!).
Most importantly, standard walkers provide ample stability, and it greatly helps in navigating indoors.
Since standard walkers have no wheels, they must be lifted with every step. Hence, I recommend this to those who have enough strength and require less assistance.
Front-Wheeled/Two-Wheeled Walkers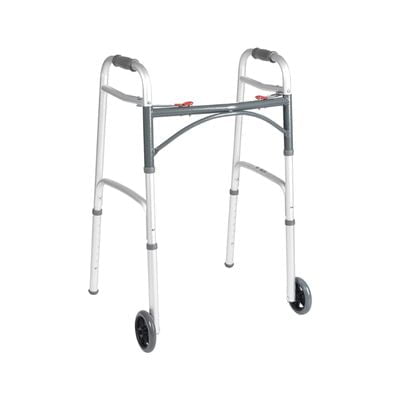 If extra help and support are needed, a basic walker can be modified by adding two front wheels.
A front-wheeled walker (a.k.a. a two-wheeled walker) usually has tennis balls or walker slides at the bottom of the back legs and wheels at the front.
The front wheels allow the walker to move smoothly on smooth indoor surfaces.
Like standard walkers, they're usually made of lightweight, foldable frames. Most front-wheel walkers don't have other special features like extra storage space.
Rollator Walkers
A rollator walker is a type of mobility device with omnidirectional or swivel wheels for easier navigation.
It includes several walker accessories that a standard walker doesn't have, such as a padded seat, storage bag, brakes, and more.
Rollator walkers, considered the best rollator for outdoor use, are also optimized for both indoor and outdoor surfaces. They feature ergonomic hand grips, pneumatic tires that can smoothly maneuver through rough roads, and feather-touch hand brakes.
Factors to Consider When Choosing the Best Walker
When choosing the best walkers for seniors, we must ensure they get ample assistance, comfort, and ease of use.
While there are many things to consider when choosing the best walker for your senior, I think these 13 things should be your TOP PRIORITY:
#1 Mobility
Mobility devices are meant to provide ease in terms of maneuvering and balancing. Hence, it's important to determine if the walker is mobile enough for the elderly.
A few things to consider are the walker's intended use and the physical capacity of the elderly.
Some questions to help you choose the best type of walker for you or the senior you care for include:
Are you planning to use it only indoors or outdoors as well?
Does the senior have enough energy to push or carry the walker?
#2 Construction and Foldability
Aside from materials used, this also concerns whether a walker is constructed with built-in or detachable accessories.
Walkers are commonly made with lightweight materials like aluminum or carbon fiber. But often, these are too flimsy for heavy individuals.
Additionally, built-in or detachable accessories, like a padded seat or storage bag, might also matter.
Some prefer to remove accessories if they're not being used to reduce the weight and size of the walker. This is especially the case if the walkers fold.
There are also variations of walkers that cannot be folded. So, if space is an issue in your home or you tend to travel often, I highly recommend considering its foldability.
#3 Weight Capacity
The material used determines whether it's sturdy enough to carry weight.
Most walkers made from lightweight materials only have a 300-pound weight capacity.
Hence, if you are over 300 lbs., I highly recommend getting HEAVY-DUTY (bariatric) walkers for an increased weight capacity. These commonly have four wheels or legs and are made of steel.
Heavy-duty walkers can support up to 650 lbs. to keep heavier seniors comfortable and safe.
#4 Portability
Individuals with little space to spare in their homes and those who travel a lot likely consider this factor.
If you like going out of town or have trips to the doctor often, it's better to get something portable.
#5 Width
The width of the seat is something you should review, especially if you're planning to purchase four-wheeled walkers. The wider the seat, the more comfortable it is.
On the other hand, foldable walkers are ideal for active seniors who likely go to CROWDED PLACES. Smaller width means it's easier to navigate narrow spaces.
#6 Seat Height
Getting a walker with adjustable seat height is important so it won't be difficult for the elderly to reach it.
If the seat is too high, the senior might apply too much pressure on their hip and rear before they can sit properly.
And if it's too low, they're likely to bend their knees and legs, which is also a BIG NO-NO for seniors.
#7 Handle Height
Handle height also determines if the walker is suitable for the elderly and if they feel comfortable using it.
Ideally, you'd want a walker that is not too high to reach and not too low to prevent back and joint pains.
If the user is tall, I suggest considering tall walkers for seniors or those with adjustable height to prevent them from bending their backs or crouching.
#8 Brakes
It's also important that the brakes are feather-touch. This requires less energy for seniors to squeeze the brakes and control their walkers.
Large, tight brakes are also a no-go for me because it's more difficult to control for small and weak hands.
In addition, older models of rollator walkers have external cables. I do not recommend this, specifically for those with severe balance issues, because it INCREASES fall risk.
Newer models, however, have a built-in brake cable, which is ideal in such cases.
REMEMBER: Choose models with functional brakes. You want the seniors to have absolute control over their mobility devices, especially when slowing down and going on downward inclines.
#9 User Comfort
This sums up a few of the factors we discussed, specifically height and width, weight capacity, mobility, and portability.
Making sure that the elderly are comfortable also ensures that they aren't feeling any pain, stiffness, or soreness due to the walker.
Prioritizing user comfort also means caring for the senior's physical health above all else!
#10 Price
Most walkers that offer more functionality and accessories cost more than traditional walkers that lack other features. 
Basic walkers cost less, but you trade off other things too. Hence, you must weigh which ones are more important. 
A good walker doesn't need to break the bank as long as it provides enough assistance for the elderly.
You can consider availing Medicare Part B if you need financial assistance.
#11 Longevity
Look for those high-quality pieces that don't tear easily. You must ensure that the walker is still functional even after extended usage.
Another factor that constitutes a walker's longevity is the warranty. Some brands offer a lifetime limited warranty to replace or repair certain parts, while others don't offer anything at all.
If a brand is willing to give you a hand when something goes wrong with the product, they're most likely producing HIGH-QUALITY walkers.
#12 Walker Accessories
Not all walkers have accessories. Standard walkers are bare and only have four legs, while two-wheeled walkers typically have front wheels and tennis balls or slides at the back legs.
Rollators are the most sophisticated type because they often have a built-in padded seat, storage bag, padded backrest, trays, brakes, and, most notably, wheels.
These accessories make everything convenient, but some people don't need or like them as much.
Depending on your preference, you can choose the type of walker with the accessories you want and need.
#13 Additional Features
Special features, like pneumatic and swivel wheels, detachable sides, and feather-touch brakes, are just bonuses. But it might also matter depending on the senior's capacity and other needs and intended uses.
These may cost more, but it's definitely a good buy if the senior needs them.
Frequently Asked Questions
Why Do Senior Citizens Need Walkers?
Seniors already have diminished physical capabilities, resulting in balance and mobility issues.
With walkers, seniors can receive the assistance they need to keep themselves mobile while ensuring their health and safety.
NOTE: Not all seniors need a walker. A physical therapist often prescribes this device after performing a series of evaluations on the patient.
Should I Use a Standard Walker or a Rollator Walker?
A standard walker will do if you have enough energy and upper body strength. But, if you need extra assistance to move and wish for additional features and accessories, a rolling walker is the best choice.
Which Walker Is Best for Seniors With Balance Issues?
Four-wheeled walkers are my top recommendation for seniors with balance issues. This walker helps maintain independence and keeps you from falling while walking and standing.
Summary of My Top Picks
Here's a quick summary of my top picks among the 10 best choices:
Best 3-Wheel Walker Rollator – NOVA Traveler 3-Wheel Rollator Walker
The NOVA Traveler 3 easily navigates narrow spaces — plus, it has many useful features, such as its brake mechanisms and accessories. This walker is also lightweight, foldable, and easy to carry, and it's covered by a limited lifetime warranty.
Best All-Terrain Rollator Walker – Helavo Foldable All-Terrain Walker
The large, pneumatic tires of this Helavo walker reduce vibrations when navigating rough surfaces. It's also equipped with a parking brake, spacious seat, storage space, and other features that ensure comfort and ease of use.
Best Upright Walker – Medline Premium Empower Rollator Walker
The comfortable memory foam seat and cushioned backrest are a giveaway for this walker. It's also lightweight, portable, and can support seniors up to 6'4 ft. It also includes essential accessories for seniors.
Conclusion
I hope this guide helped you decide which walker to purchase. Always remember to get the walker that can provide for your needs.
If you consider other brands, it's your call! Just remember to choose them accordingly based on the important factors discussed above.