A bathroom is a dangerous place for seniors. After all, slippery surfaces can cause falls that can lead to injuries.
Fortunately, you can improve home bathroom safety by using grab bars. This can also help maintain a senior's physical ability.
In this article, we'll talk about bathroom grab bars — from what they are to factors to consider when choosing grab bars.
What Are Shower Rails?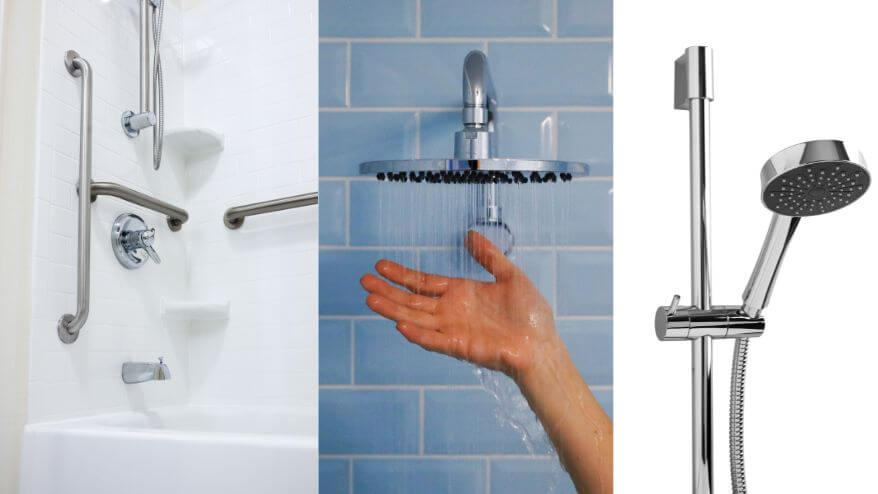 Shower rails, also known as grab bars or shower bars, are STURDY bars mounted on walls or a bathtub to help seniors maintain balance as they navigate their home bathroom.
Some bathroom grab bars are more specific depending on the location you'll be placing them.
For example, a shower handle helps a senior enter and exit the shower stall or tub. Meanwhile, some grab bars help them with sitting and standing up from the toilet.
What Are the Different Types of Shower Rails?
There are different kinds of bathroom grab bars that you can purchase according to your bathing needs. Below are the common kinds:
1: Wall-Mounted
As the name implies, wall grab bars are securely installed horizontally, vertically, or diagonally on the wall.
These use mounting screws and anchors and can also utilize wall studs for maximum support.
This kind of shower rail is great for helping a senior get up from their wheelchair, toilet, or shower chair since they can support a person's full weight.
Seniors can even lean on these grab bars to reach for toiletries while ensuring safety.
2: Bathtub-Mounted
These grab bars have adjustable clamps that tightly secure the base over the rim of your bathtub.
This gives the device good stability to help the user stand.
Some have multiple levels, so the user can hold onto a comfortable height as they pull themselves out of the tub.
3: Folding
Folding grab bars are typically beside the toilet, sink, or other tight areas. These fold down and flip up when you're not using them to save space in the bathroom.
4: Suction Cup Grab Bars
Suction grab bars are TEMPORARY grab bars that attach to the walls using suction cups.
Because of this, they're portable and generally lightweight, so they can go wherever the elderly go.
However, they should only assist in balance as you take a bath. They're not designed to support a user's full body weight — otherwise, they might fall.
You should also regularly check the suction on these grab bars since they can become less secure as you keep using them.
5: Free-Standing
Free-standing grab bars are typically floor-to-ceiling tension bars to help users get in and out of the tub or shower.
But another variety is a toilet enclosure to help someone get up or down.
What Are the Benefits of Shower Rails for the Elderly?
Grab bars improve senior safety when entering, navigating, and exiting the bathroom. But below are a few more specifics on why you should consider getting bathroom grab bars:
1: Reduced Risk of Injury
Slippery surfaces can cause injury from falls — and you can prevent that by having bathroom grab bars installed.
Grab bars are much stronger than towel rods and other bathroom fixtures, so they're safer to hang on to.
To prevent falls on the slippery floor, you can also get shower shoes to help seniors keep their balance.
2: Increased Mobility
Grab bars make walking easier for seniors. They can also sit, stand, and go around the bathroom more confidently and in comfort.
3: Encourages Independence for Seniors
An elderly person can be concerned about slowly requiring assistance in showering and other daily tasks as they grow older and experience more disabilities.
You can try to lead and support them in the bathroom, but it might be difficult for you too.However, adding grab bars can keep them mobile by improving home bathroom safety. This can improve their physical ability and support their mental state.
What Should You Consider When Buying Shower Rails for the Elderly?
Bathroom grab bars can largely contribute to shower safety for seniors. But to make the most of them, below are some things to consider before you choose among the best grab bars:
1: Material
Grab bars are typically made of stainless steel, aluminum, or another metal. However, some also come in plastic or high-density resins, such as polyethylene.
These materials keep the grab bar free from rust and corrosion.
2: Length
Grab bars can be 9 to 42 inches long — but the average length is 12 inches.
A rule of thumb is to go for a 24-inch one if it will be used for getting in and out of the shower. But if you're just using the shower rail for balance, 12 to 24 inches is enough.
3: Cost
How much a grab bar costs depends on several factors, such as:
But the cheapest basic grab bar costs around $15.
4: Grip
Some grab bars have smooth finishes. However, a textured grip might be better, so your hands don't slip.
For seniors with big hands, a thicker or curved bar might give them more comfort.
5: Installation
Grab bars are either fixed or removable.
Fixed grab bars are wall-mounted, which are sturdier and can support an elderly's body weight. These are ideal if they also need to get up or down on a bath chair.
Meanwhile, removable grab bars have suction cups, so they can't give as much assistance as fixed bars.
What Good Grab Bars Does Amazon Offer?
We'll give you a quick list of the best grab bars you can purchase for your home bathroom — whether they're for the tub, toilet, or shower stall:
Vive is a fixed bar, making it excellent for maintaining stability in the bathroom. It has both smooth and textured finishes.
You can have them installed horizontally, vertically, or even diagonally.
Carex offers a dual-level rail for the bathtub, so you can grab onto which height is more comfortable for you.
The clamp fits any flat-topped tub and has a weight capacity of 250 lbs.
Botabay offers a folding handle, so using the toilet is not too difficult.
It can support up to 300 lbs. It's safe, firm, and easy to pull up or down.
Carex's suction grab bars have a visual indicator that tells the user it's safe for them to use already.
They're also portable and compact, making them easy to carry around.
This security pole relies on tension for installation. The ends are covered in rubber pads to protect the floor and ceiling from damage.
The shapes of the grab bar utilize a person's natural hand-over-hand motion when standing up.
Frequently Asked Questions
To help you understand bathroom grab bars more, we've answered some frequently asked questions below:
Should I Seek Help From a Professional When Installing Shower Rails?
If you're using fixed grab bars, it might be better to have them installed by a professional.
But if you or someone you know is good at home DIYs, you won't have to call a professional for installation.
What Are the ADA (Americans with Disabilities Act of 1990) Requirements for Grab Bars?
When choosing grab bars, or other shower aids for elderly, you should ALWAYS check if they're ADA-compliant.
One requirement is that fixed grab bars should be able to support up to 500 lbs.
There is no specific number of grab bars required in the home bathroom. There is also no required location for you to place them. But the ADA has a few suggestions.
For example, for a toilet stall, the grab bar should be a minimum of 42 inches for the side wall and at least a 36-inch one for the rear wall.
Does Medicare Pay for Shower Rails?
Medicare generally doesn't pay for grab bars.
However, Medicare provides coverage for "Durable Medical Equipment" that is medically necessary.
So, for your grab bars to be covered by Medicare, you must present a doctor's prescription and that they're intended for use at home.
Conclusion
Shower rails, or grab bars, are helpful tools that improve home bathroom safety.
They also make it easy for seniors to maintain stability and mobility, so they don't always need someone to assist them when bathing.
These can also ensure that a senior won't fall, which might cause a serious injury.
When choosing the best grab bars, you should consider factors — such as the place you'll be attaching it and whether it's ADA-compliant.