Most people lose balance and experience limited mobility as they age. Although many of the elderly prefer doing everyday activities on their own, going to the toilet or bathing can become taxing!
Bathrooms, especially those not equipped with a grab bar or other support means, are risky places where falls and detrimental injuries can occur.
But don't worry! There's a way to prevent these accidents from happening. A chair-for-shower for elderly people is intended to provide stability and comfort while you get that refreshing shower you deserve.
Are you ready to make your first shower chair purchase? Let me share the features of the best shower chairs available today.
The 6 Best Bathing and Bathroom Chairs for the Elderly [For Showers and Bathtubs]
Here are 6 of the best shower chairs equipped with features that will perfectly match your commode and shower chair needs:
Starting with the sturdiest seat on the market, the Drive Medical bench and shower chair have adjustable aluminum legs with durability and extra stability.
It can also get you to that specific height where you can comfortably sit.
This medical-grade seat has a large seat for sitting inside and outside the bathroom.
Most people prefer this shower chair because of the blow-molded plastic bath bench and stabilizing back that assures safety even for larger people who want to shower independently.
Drainage holes on the seat are also in place to prevent water from pooling and to cause slippery surfaces that lead to falls. I found it to be an extremely useful feature to have.
Plus, you don't need any tools to assemble the back, armrest, or legs. This lightweight and versatile chair is worth the purchase!
Features:
Weight capacity: 400 lbs
Seat dimensions: 26" (W) x 17.5" (H) x 18.5-19.5" (D); Outside legs: 32" (W) x 23" (D)
Bench seat with dual-column extending legs can be adjusted to a specific height in 0.5″ increments
Extra large non-slip suction cup feet for extra stability
Reversible bench for easy entrance and exit
Drainage holes
Easy no-tool assembly
Say goodbye to cold and slippery plastic-made chairs! This Carousel's best features include a backrest, a padded seat, and padded armrests. Padding makes this seat warm, comfortable, and safe.
This medical-grade chair is designed with effortless pivoting, durable armrests, and swivel space-saving seats with a lever. I found the movement smooth and easy to use.
It also has sliding rails that allow you to maneuver this shower chair horizontally with the most convenience and comfort, up to 12 inches.
Another of its noticeable features is its bright blue color stool made for the visually impaired or dementia-diagnosed senior who may have difficulties getting into the bath.
Plus, unlike other seat options, this comes with a seatbelt for you to securely strap yourself in. You can purchase optional leg extension kits and horizontal travel extension kits.
One of the most reliable options, you can find this shower chair in many hospitals and nursing homes. I recommend it for those who need additional mobility out of their shower seats.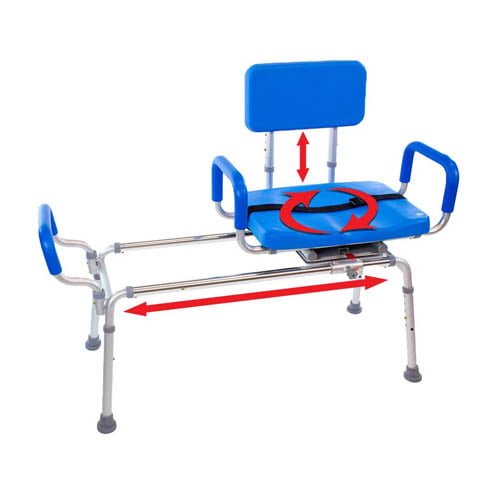 Features:
Weight capacity: 350 lbs
Hi-contrast color for safety
Padded armrests, padded seat, and removable back
Includes a seatbelt for extra security
Lightweight and storage-friendly swivel seat design
Height adjustable aluminum legs
This shower seat makes transferring from wheelchairs and walkers to the bathtub easy and safe.
Its design allows you to easily slide onto the stool, which is ideal for seniors or people who have disabilities, handicaps, or have been through a recent surgery.
Plus, its shower bench features a no-tool easy assembly that gave me no trouble installing. It also comes with adjustable legs with suction cups, a rust-resistant frame, a seat with a back, and a hook-and-loop safety belt with nylon strap locks.
All in all, these prevent slips and falls you would otherwise risk if you bathe standing!
This versatile bath chair has drainage holes for convenient showering and a removable cut-out for perineal access. This feature is often considered by seniors who prefer showering on their own.
Features:
Weight capacity: 400 lbs
Chair dimensions: 39″ (L) x 19.25″ (W) x 37 Inches (H); Adjustable seat height: 19″ to 23.5″ from floor
Seat dimensions: 19″ (W) x 14.5″ (D)
Lightweight design at only 14.5 lbs
Blow-molded plastic backrest for comfort
Height adjustable legs with rubber suction cups on feet for safety
Removable cutout for perineal access
Shower wand holder
Nylon strap locks
These shower chairs offer a very reasonable price for a great sitting experience compared to other seat options on the market.
I found this seat convenient to install with its no-tool assembly. It comes with only a few screws, the seat, and 2 sets of legs with suction cup feet.
Its suction cup feet are pretty big and can keep the stool in place. This prevents the chair from shifting, providing extra security to cautious elderly patients. Plus, the chair is textured, so you don't slip out of it easily.
The shower seat includes drainage holes so soapy water drains directly to the floors, minimizing buildup that could cause unwanted slips and falls.
Another great feature of this medical-grade seat is its adjustable legs. You can increase the seat height up to 12″ from its feet.
This good stool height helps those with knee and back pains sit and rise on their feet easily. Instead of a grab bar, this chair comes with handrails in its assembly, providing excellent security.
Features:
Weight capacity: 300 lbs
Chair dimensions: 30″ (W) x 20.5″ (D) x 31.25-35.5″ (H)
Seat Size: 27″ (W) x 16.5″ (D) x 17.25-21.25″ (H)
Back Size: 16.25″ (W) x 14″ (H)
Arm Height: 24-28″ (H) from the floor; 6.5″ (H) from the seat
Features a sturdy yet lightweight design, easy to maneuver for those with limited mobility
Drainage holes
Anti-slip seat with rubber suction cups as feet for extra stability
Height-adjustable legs made of strong aluminum
Trouble-free assembly of arms, feet, legs, back, and seat
Like most chairs, this lightweight medical shower chair requires no tools to assemble its back, legs, and arms.
Its lightweight bench backrest is reversible to fit into any bathroom or shower. It is also made of environmentally friendly material that can be recycled.
This chair's back support and armrest are made of very durable and sturdy material. Its height-adjustable legs are also angled with two suction tips.
All in all, these features are great for stability and bathroom security for seniors and disabled patients!
Its bench for easy transfer also comes with a non-slip, non-skid design with drain holes. You can confidently and comfortably slide into the bench without the risk of slipping.
Features:
Weight capacity: 325 lbs
Seat Dimensions: 17.5-21.5″ (H,) 26″ (W) adjustable in 1/2″ increments; bench seat depth: 18.5-19.5″
Features a lightweight and sturdy design with convenient sizing
Reversible backrest for versatility in any toilet and easy sitting
Easy tool-free assembly of back, adjustable legs, and arms
This Moen chair has features you will NOT find in many other shower chairs!
This well-made, sturdy, and stylish chair has an optional removable back, a hand assist, a cup holder, and a bracket to hold the shower head.
Its sleek design has a water track that carries water back to the tub, not the floors. It is also textured to be non-slip for security reasons.
The stable leg system adjustable to specific seat heights makes it a great option for many bathroom styles.
Plus, it is super fast to install! I finished the assembly in 20 minutes, tops!
Apart from comfort and stability, this shower chair can also be associated with style and luxury.
It has a bright and clean look with a white glacier finish that can complement the interiors of your bathroom. It even has a basket for you to store your toiletries.
As a bonus, the Moen features a limited lifetime warranty.
Features:
Weight capacity: 400 lbs
Seat dimensions: 33″ (W), 18″ (D)
Features adjustable seat height between 16.5″ to 21″
Non-slip comfortable seat for extra support, and drainage holes for preventing falls due to a slippery surface
Bright, glacier finish, lightweight design
What Are Bath Chairs?
Shower chairs are assistive devices you can put in your bathtubs or shower enclosures. These can be portable or permanently installed and are commonly used in nursing homes and assisted-living facilities.
Shower chairs are helpful for seniors or patients with disabilities who can no longer stand too long and might lose their balance. With that said, sitting while bathing is a better option for them.
Features to Consider when Choosing Shower Chairs
The most important thing to consider is whether your choice of chair can accommodate your height, weight, and level of mobility.
These are some of the factors I look at when choosing shower seats:
#1 Size of the Chair
The seat measurements should hold enough space for your size.
Your chair should also fit the space of your tub.
#2 Weight Capacity
The shower seat you choose should be able to carry your weight safely. Depending on the model, they can support weights between 250 lbs to 400 lbs.
I recommend getting a bariatric shower chair if you need more support.
#3 Height Adjustability
You will want to have legs you can adjust to a certain height. This way, you can sit comfortably without having to strain your joints. The height range will vary depending on the chair model.
I always preach checking the specifications before buying and whether they can meet your needs.
#4 Stability
Look for steel and aluminum legs in these seats. They offer the most stability, especially if they have suction tips.
#5 Durability
Since you will be using this in the shower, you will want a seat that can withstand constant exposure to water.
Seats of rust-resistant materials like plastic, aluminum, or steel are preferable.
You might also consider those with drainage, so water build-up doesn't cause any molds and mildew.
#6 Comfort
Shower chairs should allow you to rest and relax while taking a shower. Consider padded shower chairs for longer showers or if you are thin and prone to skin tears.
#7 Portability and Storage
A lightweight design and ease of assembly make it easy to transport and move around in specific parts of your shower or to take with you when traveling. This is a must!
#8 Accessories
Some seats have accessories you can buy separately. This includes storage baskets, extensions, holders, and belts. These come as an extra expense, but they can be worth the bucks if you need them.
Are Shower Chairs Safe for the Elderly?
YES, shower chairs are safe! You don't need to worry about your next shower with these installed. I recommend them wholeheartedly.
They have non-slip rubber feet for extra stability, grab bars and arms to hold on to, and ergonomic seats and backrests for comfort. Some seats even come with belts for added security.
Some seats are also made with durable rust-resistant material that can withstand regular use.
Ultimately, the security and satisfactory experience you will have with your chair of choice depends on if it meets your specific needs. Choose your chair wisely!
What Are the Benefits of a Shower Chair?
There is a lot to love about shower chairs! One thing is for sure — you'll be more confident when taking nice baths without worrying about the risk of injury.
Here are the benefits seniors and people with disabilities enjoy when having a bath chair in their bathtub:
Shower Safety and Stability
These seats are designed with security in mind in every aspect. Having suction cups on the tips of the legs, textured seats, drainage holes, padding on armrests, grab bars, and sliding benches are common features that ensure you won't slip in the bathroom.
Better Access to Therapeutic Showers
Taking nice warm showers are excellent ways to destress and relax. They are highly encouraged for overall health and well-being. As we age, taking therapeutic hot baths can relieve all the muscle pains we start experiencing. But with weakened legs and restrained mobility, these showers are better taken seated.
Improved Hygiene
Many seniors skip a bath simply because of how tedious the task can be! With the help of these shower stools, seniors may not become too lazy to bathe regularly. Overall, this improves their hygiene, preventing certain illnesses and infections.
More Independence
Many seniors do not like being helped all the time. Some are even in denial of their state, which is often the cause of accidents.
If that's the case, I'd advise you to get them these seats that allow them to shower safely and independently.
Lightweight and Portable
If not permanently installed, these shower chairs are made to be lightweight and easy to assemble and disassemble for portability. Knowing these will be used by older people and assembled by carers is just right.
Frequently Asked Questions (FAQs)
Here are the most frequently asked questions about the topic!
How Much Does a Shower Chair Cost?
Shower chairs will cost you around $25 to $300 or more. The price of a shower chair will highly depend on its type, weight capacity, build, and other features that affect its overall cost.
You get what you pay for with these seats, so I suggest getting a mid-range chair.
Does Insurance Pay for a Shower Chair?
Unfortunately, NO, these are not usually covered by insurance. This means keeping within your budget as necessary. However, note that you will use this daily for a long time.
Make sure to consider and weigh your options. This is an investment that is worth spending a few extra bucks on!
What Can I Use Instead of a Shower Chair?
Many people fall in the bathtub because they don't have anything to grab onto when they lose their balance.
Some seniors reach for a towel bar or shower curtain, but these make falls worse as they are not sturdy enough to support you.
If you're not considering a shower chair yet or prefer standing or lying down when bathing, bathtub grab bars are your next best option.
These grab bars can be installed in multiple places around your bathroom where you are likely to hold on for support.
Conclusion
Taking a shower is necessary to maintain good hygiene and overall health, all the more as we age. However, it can be difficult to do with deteriorating mobility.
That's why shower seats greatly help seniors and people with disabilities. They reduce the risk of injuries that can harm health or even cause accidental deaths.
When purchasing a shower seat, consider the ones that are:
You will be using these daily. Those made with adjustable components also add convenience and comfort, ensuring they fit perfectly for your needs.
What are you waiting for? Get yourself a shower chair today, and earn that peace of mind every time you enter the bathtub!