Our bodies decline when we age. That's no secret. Limited dexterity, high irritability and declining mental sharpness make it difficult for senior citizens to stay active and relevant.
But what if I told you that simple activities, when done creatively and with the right amount of imagination, can help keep you sharp, busy, happy, and even allow you to socialize?
Many seniors have taken up arts and crafts projects to stay alert and give them a sense of achievement.
Let's go through some of the easiest but most fulfilling arts and crafts projects for senior citizens, regardless of their interests, conditions and skill level.
Crafts for Elderly in Nursing Homes
Senior citizens in nursing homes often get the short end of the stick. Seniors are left there by their families, usually come in with conditions, and maybe bored.
Fortunately, there's a cure for that. Here are some arts and crafts ideas for seniors to create in nursing homes to decorate their rooms or even the whole site.
Suncatchers (Made with Mason Jar Lids)
Sunlight works wonders for everyone, regardless of age. Older people, however, especially those with dementia, can benefit from a bit more sun to prevent sundowning (late afternoon confusion).
Suncatchers are exceptionally easy to create and can be made out of plastic container lids and mason jar lids. You have to paint your cap and decorate it with vase gems or glue-printed handkerchiefs.
Painted Terracotta Pots
Potted plants are excellent companions in any room. They provide a bit more green and warmth and give an oxygen boost for seniors who feel cramped in assisted living.
A simple project is painting your terracotta pots and decorating them before the plants go in. It works well on paper.
You will need some acrylic paint, paintbrushes, primer, newspapers, and a paint seal. Prepare your pot and painting area, get creative with it, seal, and enjoy your new conversation piece.
Paper Flowers
Paper flowers are cute and allow you to create a bunch in one go. They're a beautiful alternative for seniors who enjoy seeing plants but forget to care for them.
These flowers can be as simple as single paper origami, allowing you to cut and fold them easily, making it easy to produce a batch in one sitting.
If you're a bit more skilled, you can choose to make more realistic options out of wallpaper samples, tissue paper, coffee filters, and even crepe paper.
Popsicle Stick Snowflakes
These snowflakes are the definition of an easy arts and crafts project. Simply arrange your popsicle sticks (you will need a minimum of 6 to make a simple asterisk-shape) and decorate.
Beyond arranging your popsicle sticks and gluing them down, what makes each created snowflake special will be your use of glitter, paint, small diamonds, cotton, paper, etc.
You can hang it around the facility as wall decorations once the holidays roll in. It adds to the festive mood and lets you say, "there are many snowflakes here, but this one is mine."
Crafts for Elderly With Dementia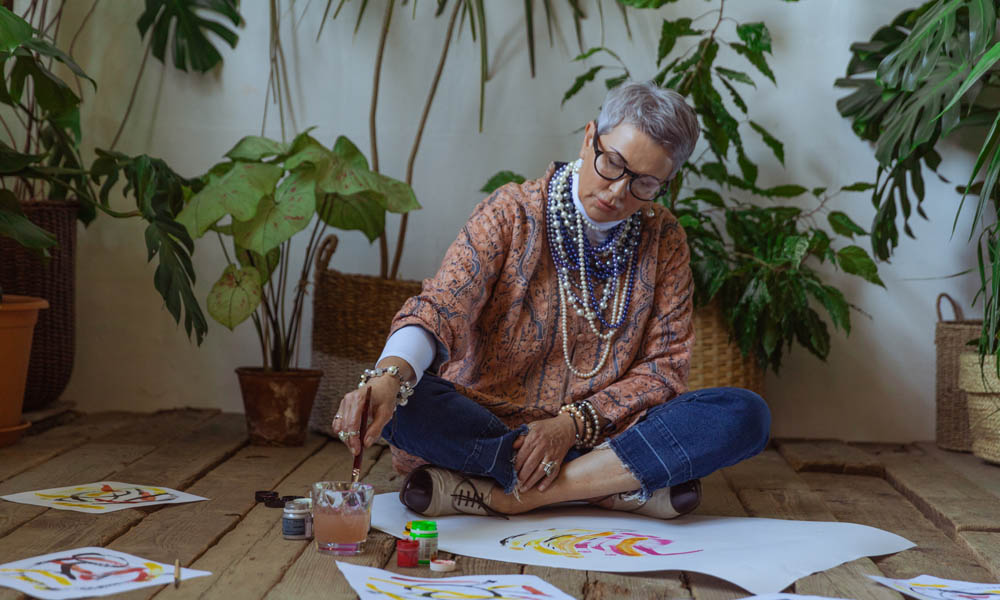 One of the saddest things is seeing someone who was once intelligent and witty slowly slip away. They stop making what they enjoy making, and they forget who you are whenever you visit.
Arts and crafts projects are a fun way of keeping them inspired and helping them remember family and friends. These crafting projects also allow them to make new memories.
Scrapbooking
This is one of the top crafts for seniors because it allows them to recapture their memories, reminds them of who they were, and informs them of what they could be.
You need a table, developed photographs from your past, and other memorabilia or important items that can fit in a scrapbook, like tickets or pamphlets.
Scrapbooking keeps senior citizens sharp by allowing them to recall important nostalgic moments that helped shape who they are and helps them identify family members by face.
Crochet
Crocheting may be the most well-known craft project for older people, and good reason. With two crochet hooks and some yarn or fabric, you can weave yourself into a better mental and physical state.
Crochet's other uses, aside from making doilies, coasters and sweaters, allow seniors to maintain their motor skills and hand-eye coordination and keep them mentally sharp.
While there is a bit of a learning curve, crocheting gets easier after you've mastered the basics. It allows you to make virtually any clothes or stuffed toys you want and makes for heartfelt gifts.
Recipe Cookbook
Seniors author plenty of books nowadays. This project is for grandmas who're looking to share their closely-guarded recipes before they forget, passing them on in the form of a cookbook.
Trying to create a cookbook is a fun activity that will keep you busy in your room, the kitchen, and the dining tables and allow you to pass on all the tricks of the trade that only you and your wooden spoon know.
Don't be afraid to ask for help. The instructions and ingredients list can come from you, while a younger person can shoulder the effort needed to turn it into a book or a handy print-out.
Family Tree
This project is a gift you can leave for future generations to come. As perhaps the oldest living member of your family, you know at least 5 generations' worth of family (your grandparents down to your grandkids).
This allows you to tell your family's story, connecting the dots on who your relatives are, were or will be. You can get creative with it, painting an actual tree or using pictures to show each member.
This tree can be given as gifts to family members in need of a history lesson and will allow you to remember loved ones long gone, as you want to be loved and remembered.
Crafts for Elderly With Arthritis
Having limited dexterity in the hands is extra painful for those who love making crafts. Not to worry, creating art projects doesn't have to be too complicated.
Here are some fun project ideas for seniors who have arthritis and how they can help them regain their dexterity.
Clay Sculpting Craft Ideas
Seniors can have loads of fun with clay sculpting because it's easy on the hands (especially if you're using tools), easy on the eyes if you make a large model, and is very tactile.
You can choose to make clay figures, get into clay pottery, or even make busts of famous figures. If you can envision it, your hands will make art.
Gardening Flowers
Seniors benefit from getting in touch with nature.
Sitting by a tree is good, breathing in the fresh air is amazing, and cultivating flowers and allowing them to grow from spring to fall is perfect.
While not everyone has a green thumb, taking care of a few potted plants or having a small patch of garden to care for allows you to take your mind off things yet focus perfectly on what you need to do.
Mason Jar Centerpieces
One of the more "artsy" crafts on this list, centerpieces are an often-overlooked yet essential part of weddings and other events because they bring together the whole table arrangement.
You can bring that to your table with minimal effort. Simply take your mason jar and decorate it with paper, gems, fake diamonds, and other details like LED lights to make the whole design pop.
Tape Painting
As the name suggests, this form of "painting" doesn't require paint. Instead, it requires painter's tape, masking, and duct tape to imitate brush strokes. It's all the fun of painting without the mess.
This allows those with shaky hands to prepare strips of tape beforehand and slap them onto their canvas before moving on to the next strip. It allows you to stay in control while exciting the imagination.
Crafts for Elderly With Poor Eyesight
Part of the decline with age is that our eyesight grows poorer, and we can no longer see the projects we're working on. Fortunately, we have some craft ideas for that.
Making Jewelry Beads
This project allows seniors to make a cute necklace or bracelet for their grandchildren using easily available beads and can be easy to see if large and brightly colored.
It's a fairly straightforward project. Simply run your string through the holes of the beads and seal the ends together. You can also paint the beads any way you or the recipient like.
Loom Knitting
Creating clothes and fabric patterns is a staple activity for seniors. There are now easier ways of doing it with the hands and eyes. Loom knitting allows you to work around your disadvantage.
Knitting with a loom is faster and easier than regular knitting. Run your yarn or string around the loom pegs and weave layers on top of each other. You'll have a complete article of clothing in no time.
Terrarium
A terrarium is a prime example of using a small space to emulate a large one. You can have a tree within view where there are none and look ahead to an incoming vacation before even booking a trip.
This miniature environment is a great habitat for any small pets you can have, and it's easy to assemble. Add your rocks, sand, dirt, and artificial environment, and enjoy the view.
Handmade Bookmarks
This is one of the easiest crafts in this section to create, as any thin piece of paper or cardboard can become a bookmark. You can simply color on a blank piece and laminate it.
The challenge and thrill are how much time and effort you can invest in your bookmark. You can use glitter, punchers, cut-outs, paint, markers, and other conventional art material.
This is a great gift to give to bookworms. It's heartfelt, functional and aesthetically pleasing.
Easy Crafts for Seniors
Some crafts for seniors are so easy that any senior, regardless of skill level or interests, can pick it up, spend some time on it, and create something that future generations of your family will enjoy.
Here are some more craft ideas that can be done for senior citizens looking to spend some quiet time in the house.
Sock Snowmen Ornaments
Seniors preparing their Christmas tree can craft this cute ornament with minimal effort. This ornament can be made with any old white socks and takes only minutes.
Grab your materials. Prepare your sock. Stuff it with the right stuffing and watch your workspace turn into a winter wonderland in minutes. They're some of the easiest ornaments to craft.
Tropical Angels (Inexpensive Supplies)
Tropical angels are an adorable way to decorate your home and use up any excess fabric. These reverse cone-shaped angels are a good afternoon activity and will leave you feeling blessed when they're done.
The best part is, you can make them with your grandchildren when they visit. Build your base; then the head decorates it however you want.
With the main body done, you can add the wings, halo, and even arms if you feel like it.
Painted Wooden Beads Necklace
Fairly straightforward, this project allows you to put your painting skills to good use.
Get creative and show off your talents as you paint each bead with different colors and assemble it to have a beautiful fashion piece.
Pompom Pumpkins
The fall is known for Halloween and pumpkins. If you can't make the fall trip to a pumpkin farm, you can use yarn to create your pumpkins.
Greet the fall season with this unique take on a season staple. Glue your yarn pieces around your base and watch it get into shape. It's a fun decoration to have in your home.
Craft Activities for Seniors
Craft ideas for seniors don't all have to be sedentary, or activities are done alone. They can be a chance to gather around a table, prepare for the holidays, and are a fun way of allowing seniors to create to hone their craft.
Pineapple lamp
The name says it all. This craft project is a chance for seniors to create something elegant, professional-looking and eye-catching out of plastic spoons. It's a pineapple lampshade.
You may need some help cutting up your cutlery, but once all the round areas of your spoons are separated, you can glue them together to form the pineapple's texture and appearance.
Greeting Cards
People close to us passing away is a sign of age. It can also tell you to remember them and show your appreciation. We can craft and create greeting cards for them out of card paper to show them we care.
Photo Frames
Photo frames are one of the things that can instantly age a house when they aren't dusted and maintained. However, this poses an opportunity for you to show off your creativity.
Taking a paintbrush to your photo frame allows you to breathe life into old frames, complements the person's personality in the picture, and gives you busy yet fruitful afternoons.
Collage Board
Instead of making ornaments, you can also use the space to create a collage board out of scrap paper and random shapes. It can be about anything meaningful to you and is a reminder of happier times or places.
Conclusion
Growing old shouldn't signal the death of your creativity. Seniors can benefit physically, mentally and even socially from crafting. All you need are the right materials, imagination, and patience.
Seniors looking to create or craft ornaments, paint on paper or canvas, decorations or other more useful items are limited only by their willingness to make art and make something beautiful.