A rollator walker may be handy for seniors who need support when strolling. It provides great assistance while walking for long periods.
As 3-wheel walkers become the trend, many brands and models pop up left to right. It might be confusing to figure out which one perfectly suits your elderly's needs.
Don't sweat it! I made everything easy for you by rounding up the best 3-wheel walkers for seniors.
Stick with me as I review my top 5 picks to help you decide which walker best suits your elderly's needs.
The 5 Best 3-Wheel Walkers for Seniors (Triangle, Lightweight, Folding)
A 3-wheel rollator walker is perfect for the elderly with minimal strength and people with conditions that result in mobility issues.
Here's what you can expect from them:
With its added support, seniors can easily stroll around the streets or in shopping malls.
Walkers also provide optimum assistance, unlike canes and crutches.
They can certainly fit in tight spaces and are easy to maneuver.
They're easy to store, and they're lightweight.
Surely, 3-wheel walkers can give ample support to many seniors, and they may also work perfectly for your loved one's needs.
As you read my review on the 5 best choices for 3-wheel walkers, figure out if this is the mobility aid you wish to purchase.
The first three-wheel walker for seniors I have on this list is Nova Medical Travel. The brand promises to aid in overall mobility, safety, and independence.
I like how the Nova Traveler is built with all-terrain 8-inch rubber wheels. They ensure a smooth and stable ride indoors and outdoors.
It's also great for maneuvering diverse and narrow spaces. Plus, it's easy to fold and stays at a standard folded position for effortless parking and rolling smoothly.
The Nova Traveler has a large storage bag, tray, and basket as additional accessories. I find this feature helpful for storing personal items on the go.
But for me, the highlight of this three-wheel walker is its feather-touch hand brakes. You can engage them even with the slightest grip to achieve maximum control.
Additionally, its frame is topped with a long-lasting paint finish, and it's available in five color options to suit anyone's style.
Nova walkers are one of the BEST options you can find up for sale. It's also backed by good after-sale services and a warranty for your satisfaction.
All break accessories are covered by a 5-year warranty, while its frame has a lifetime limited warranty.
This assures you that Nova Traveler stays in mint condition with a LIFETIME guarantee.
Features:
All-terrain, 8-inch rubber wheels with 1 3/4-inch wide base
Includes a large zippered storage pouch, tray, and basket
Feather-touch locking brakes
Covered by a 5-year warranty on all brake accessories
Covered by a lifetime limited warranty on the frame
I think the Drive Medical Nitro is a great folding walker, especially for seniors who wish to stroll in any location.
I love its folding mechanism that makes the roller easy to maneuver and navigate even in a MINIMAL space. It's also easy to park and store anywhere.
Its large 9-inch front wheel, on the other hand, helps adapt to any terrain. It's truly a convenient and versatile choice for the elderly.
The Nitro Euro-Style Rollator is designed with ergonomic hand grips for effortless rolling. It even features push-down hand brakes that can act as parking brakes (which I personally like).
With Drive PreserveTech, the frame and grips are treated with an antimicrobial agent to prevent the growth of bacteria, mold, and mildew. This keeps the walker in good condition.
I also appreciate how the brand cares for the elderly's safety and satisfaction. They equipped this three-wheeled walker with a dual front fork to enhance the turning radius.
It also has an adjustable height to fine-tune with the senior's preference and help keep them in an upright position.
Similarly, it includes a large removable pouch to help carry personal belongings or transport different items anywhere.
Setting up this walker is going to be the least of your worries. It's already pre-assembled out of the box. Simply unpack the new ride, and you're all set for a fun strolling session.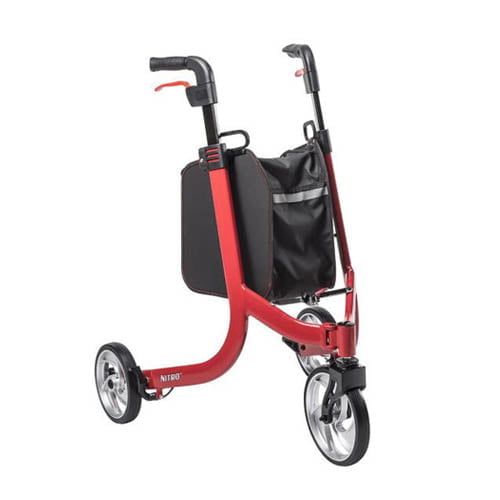 Features:
Lightweight aluminum frame and ergonomic grips and brakes
Quick push-button height adjustment
Large 9-inch front wheel and dual front fork design for easy steering
Foldable design for convenient storage and maneuverability
Antimicrobial agent-treated surfaces
If you're looking for a lightweight walker that can support up to 250 lbs, the Rally Lite Folding Walker is one of the best choices I vouch for!
It's featherlight at only 10 lbs. due to its aluminum frame. But, its high weight capacity is ample enough to serve as a good support aid for seniors.
The brand features looping locking brakes that are easy to operate even if your hands have minimal strength.
Bringing this rolling walker anywhere is a breeze. In my experience, the roller can be easily maneuvered indoors, outdoors, and in tight spaces with its 8-inch wheels.
Rally Lite also has a compact design ideal for travel and storage with its telescopic side frame. Its folding mechanism allows easy storage in your car trunk and home.
It's also equipped with height-adjustable handles that can stretch from 31 to 38-inches to adapt to your preferred elevation.
This three-wheel rollator features a quick, tool-free assembly as well. It saved me from all the hassle of setting up the new wheels, and I know you'll experience the same too!
Your elderly might wish for additional storage capacity for groceries or personal belongings. Rally Lite has a front basket and zippered storage pouch to carry items ANYWHERE they go.
Features:
Lightweight aluminum frame with high weight capacity (up to 250 lbs.)
Looping locking brakes and telescopic side frame
Height-adjustable handles
Tool-free assembly
Includes front basket and zippered pouch
If your elderly's height ranges between 5'0″ to 6'1″, the Carex 3-wheel walker is the best option for them. Its handles are height-adjustable to provide maximum comfort while walking.
I also like how this trio walker is equipped with a 7-inch wheel and locking brakes. I think it's an ideal walker for support, whether standing or walking.
The Carex Trio Rolling Walker is designed for easy transport and storage. With its quick-collapse system, the roller quickly folds and maneuvers in tight spaces with ease.
It also includes a zippered storage pouch that is large enough to help carry the elderly's loads. Plus, it has small pockets where you can put an ID card, cell phone, and other small items. I know the Carex 3-wheel walker will work wonders for seniors and handicapped who wish to walk around on their own. It will help older adults with balance issues or those who need full support.
Features:
Quick-folding walker
Height-adjustable to cater to individuals between 5'0″ to 6'1″
Includes zippered storage pouch with pockets
Equipped with 7-inch wheels and locking brakes
The final product on this list is another three-wheel walker from Drive Medical.
Unlike the previous model, this rollator walker has a basket and tray to help carry the elderly's belongings. This makes transportation more convenient than ever.
This model is also a lightweight rollator that's powerful enough to aid seniors who seek more support and increased mobility.
Its 8-inch wheels and 7.5-inch casters make it a great mobility aid indoors and outdoors.
For me, the highlight of this product is its locks. To ensure the senior's safety, this triangle walker is manufactured with special loop locks with an internal aluminum casting. With its height-adjustable handles with self-threading knobs, I'm certain that this upright walker can adapt to your desired elevation level.
Features:
Includes a basket, tray, and large pouch
8-inch wheels and 7.5-inch casters
Height-adjustable handle
Special loop locks with internal aluminum casting
Lightweight aluminum frame
Do You Need to Use a Rolling Walker?
Seniors may already have decreased physical abilities as their strength and endurance reduce—their bone and muscle density declines, which affects their bodily functions.
Due to poor balance and vision, on top of diminished strength and flexibility, elderlies may get injuries that deteriorate their quality of life.
I think a rolling walker is a NECESSITY for elderlies, especially those with mobility issues. This way, you can prevent accidents from happening.
It's great assistive equipment to keep the elderly's independence while strolling around.
But why should I invest in a rollator instead of a cane?
Canes are also good for providing support when walking or standing. But rolling walkers go with the body's movement naturally. It also provides optimum assistance to suit their needs.
What to Consider When Buying the Best 3-Wheel Walker for Seniors
Investing in the best three-wheel rollators assures you that what you get is of premium quality. I know you want durable walkers that provide MAXIMUM assistance and comfort.
But how do you choose a good three-wheel walker?
There are many things you can consider when choosing the best adult walker. But, I suggest you look at these five factors:
Build
Weight capacity
Versatility
Reliable brakes
Additional storage
#1 Build
The frame of your three-wheeled rolling walker would say a lot about its durability and convenience.
Most leading walkers on the market are built with aluminum and carbon fiber frames.
These heavy-duty materials are also LIGHTWEIGHT, making them convenient to store and maneuver.
The wheels' material and wheel size also matter when you aim for walkers built to last. I choose those that can survive and adapt to rough terrains. Large wheels made of materials that don't tear easily are ideal, especially for outdoor strolling.
#2 Weight Capacity
Weight capacity is another criterion you must consider when searching for a good three-wheel walker.
Ideally, I choose those that can support a weight heavier than the user. This ensures that the rollers can provide adequate assistance, especially in carrying additional loads.
The three-wheel rollators I reviewed in this article likely have a weight capacity of 250 lbs.
#3 Versatility
You must get mobility aids that can adapt to any terrain and space. Aside from large wheels, a foldable design also works wonders for many seniors.
I find a walker that folds neatly EXTREMELY helpful. It allows for easy maneuverability and convenient storage, especially in narrow spaces.
A versatile walker ensures the senior feels comfortable and secure indoors and outdoors.
#4 Reliable Brakes
Most seniors already have reduced strength. Hence, a well-designed adult walker should have easy-to-operate and reliable brakes.
Locking brakes provide support even when you're standing. The senior can safely lean on the walker without worrying about slipping or falling.
#5 Storage
In my experience, additional storage makes everything CONVENIENT.
This is helpful, especially if the senior must bring personal belongings, like mobile phones and ID cards, wherever they go.
The elderly can also shop alone without the hassle of carrying a handbag with their three-wheel walker.
The models I reviewed in this article come with storage pouches, front baskets, and trays.
Are 3 or 4-Wheel Walkers Better?
Choosing between a three-wheel and four-wheel walker would depend on your physical ability and body weight.
A three-wheel rollator is ideal for the elderly who need more mobility support than a cane can't offer.
It's also significantly lightweight compared to four-wheelers. They can easily maneuver it in crowded areas and tight spaces with only one wheel in front and two wheels at the back.
Three-wheelers are ideal for seniors who don't weigh over 250 lbs. If your loved one is over this weight capacity, walkers with four wheels are a better option.
It's also a good choice if you're looking for a walker with a seat. Many four-wheel rollators are designed with a padded seat for the senior's comfort.
If you want your loved one to take long breaks after a long walk, I think a walker with a seat and backrest is ideal.
Does Medicare Cover 3-Wheel Walkers?
Your Medicare Part B benefits will cover your expenses on a three-wheel walker. However, you must meet these conditions:
The doctor and walker supplier must accept a Medicare assignment
The walker is medically necessary for treating or aiding diagnosed conditions
The doctor prescribes the walker
What Is the Difference Between a Rollator and a Wheeled Walker?
Rollators are similar to wheeled walkers. They are mobility aids that are easily maneuvered with their swiveling wheels.
This equipment has brakes and can have two, three, or four wheels. It helps seniors and the handicapped move independently.
Frequently Asked Questions
You might have more questions in mind about triangle walkers. Don't worry! I'll help answer your confusion concisely in this section.
Are Three-Wheel Walkers Stable?
Yes, three-wheel walkers are stable mobility aids for seniors. Reliable walkers have a compact design, good brakes, soft grip tires, and ergonomic adjustable handles.
These walkers are ideal for seniors who don't weigh over 250 lbs.
What Is the Lightest 3-Wheel Walker?
The lightest walker I reviewed is the Carex Trio Rolling Walker. It's only 10 lbs. with a weight capacity of 250 lbs.
What Is a 3-Wheeled Walker Called?
A walker with three wheels is sometimes referred to as a triangle walker because of the shape it makes when unfolded.
Conclusion
Three-wheel rollators are helpful for seniors who wish to stroll independently. It also provides ample support even when they're standing.
There are many triangle walkers you can find on the market. But, you must choose those that are durable, convenient, and safe for your loved ones.
A rollator is undoubtedly an excellent investment to have your seniors smoothly wherever they want. It's a good way to keep their independence while securing their safety!