Picking up cell phones for seniors can be tricky nowadays. Not every senior citizen is tech-savvy, so they may be unable to handle high-tech devices like touchscreens or smartphones.
In this case, it's best to focus on basic phones with only the essential features. Fortunately, AT&T still carries flip phones for seniors!
I'll cover some of my senior relatives' favorite flip phones in depth here, so read on to find the best flip phone for your elderly loved one!
Does AT&T Have Flip Phones?
I was originally looking at Jitterbug phones, but unfortunately, AT&T phone plans aren't compatible with Jitterbug.
If you want to avail yourself of Jitterbug phones or other cell phones designed for seniors, you'll have to approach other phone carriers. I found that AT&T doesn't carry phones designed with seniors in mind.
However, even though they don't offer cellular phones with seniors in mind, AT&T does carry a few flip phones. They also offer support and manuals for multiple flip phone models.
You can also check other phone companies like Consumer Cellular for their devices like I ended up doing. Consumer Cellular also has AT&T-compatible cell phone plans.
Which Features Should Flip Phones for Seniors Have?
AT&T does not offer flip phones for seniors specifically. However, there are specific phone features that are senior-friendly that I learned to look out for.
1) A Large Keypad
Many senior citizens cannot handle using smartphones because of the lack of buttons, and sometimes, confusing interfaces.
Flip phones remove this problem by having large and clearly-labeled buttons in their design. As a physical feature, these buttons will remain easy for vision-impaired seniors.
2) Voice Commands
My elderly parents sometimes have trouble holding their phones for long periods. This issue meant I had to find them cell phones with voice commands and voice dialing!
A flip phone with voice commands will help any seniors use their phone despite any motion issues. Look for phones with a TTS or Text-to-Speech key for easier usage.
3) Hearing Aid-Compatible
Cell phones typically need to be used when held up to the ear. However, many seniors are hard of hearing and must get by with hearing aids.
Hearing aid-compatible phones will let your loved one enjoy crystal clear calls and reduce the chances of interference from their hearing aid.
4) Safety Features
Smartphones today can be both fragile and a potential source of viruses or fraud calls. Some very basic phones come without internet access, making this a non-concern.
Apart from online problems, your elderly family member may require a more rugged phone because of a tendency to drop objects.
I ran into this issue but handled it by getting a flip phone with a tough exterior.
The Best AT&T Phones for Seniors
I'll discuss the best cell phones for seniors here, including devices with more advanced features!
AT&T Flip Phones
Keep in touch with your elderly family members by getting them one of these cell phones!
The Sonim XP3 comes with a fairly small 8 GB of storage, but it can be upgraded with an external memory card in case your loved one needs more space.
This flip phone has a smaller display than its competitors, but you can say goodbye to scratches with the XP3's Gorilla glass display!
Advise your loved one to take care while using the Sonim XP3's camera because it comes with an LED flash. It's easy to stun someone in the path of this phone's camera!
Features:
Features voice dialing
Extremely long-lasting battery life
Hearing aid compatible
5Mp camera
The Kyocera DuraXE Epic is what the modern flip phone aspires to be. It caught my eye because it's tough, compact, and easy to use.
If you're worried about your loved one having trouble being heard, you can stop worrying! This phone is HD voice capable, so they can take advantage of advanced features like noise-canceling.
You also don't have to be concerned about your elderly loved one falling prey to scams with the Kyocera DuraXE Epic.
Unfortunately, the Kyocera DuraXE Epic doesn't have internet access. This makes it easier for your loved one to avoid scams, but you may need a phone with more connectivity.
Features:
External display for quick details at a glance
Decently long battery life
Fast-charging
FM Radio for music
AT&T Prepaid Flip Phones
Avail of AT&T's plans to maximize your talk time with your loved ones!
The Cingular Flip IV is the best flip phone on this list, and that's because of its user-friendly features and very approachable price!
This phone features an integrated Google assistant app, making it ideal for senior citizens. Thanks to this app, you can use this phone using only voice commands!
However, note that the Cingular Flip IV has a fairly small amount of storage, even for a flip phone.
If your loved one wants to upgrade the storage of their Cingular Flip, I suggest beefing it up with an external memory card.
This Cingular Flip device also comes preloaded with FM radio so your elderly family can enjoy music. It can also serve as a mobile hotspot for multiple devices.
Features:
It is offered at an affordable price
HD Voice capable
Speedy quad-core processor
Hearing aid compatibility
2.) Consumer Cellular Link II
The Consumer Cellular Link II has a large, clean keypad with only the essentials. Its home menu is also clearly-labeled, making this phone easy to navigate for seniors.
If your loved one needs just the basics, this phone is for them. One nifty feature is its hearing-aid compatibility, so it's also ideal if your loved one is hard-of-hearing.
Features:
Large and clearly-labeled keypad
Can display Caller ID for calls
Handy external display
AT&T Cheap Flip Phones
Note that some of these cell phones for seniors are no longer available on the AT&T website, but you can still find them online.
Keep in mind that this Alcatel phone is locked to the AT&T service, so it cannot be used with other mobile carriers.
The Smartflip is a speedy Bluetooth-capable device with a bright and easy-to-navigate display. Even when closed, it's still got utility thanks to its convenient external display.
Your elderly loved one can see exactly who's calling with the Caller ID, then respond with a clear voice thanks to the Smartflip's HD Voice capabilities.
Features:
Hearing aid compatible
Preloaded with an integrated Google Assistant app and Google Maps
No-fuss external display
2.) Cricket Debut Flip
I liked the Cricket Debut Flip, but you'll have trouble finding it on AT&T's website now.
The Cricket Debut Flip comes with a cool 4GB of internal storage and internet access, letting your loved ones stay connected regardless of where they are.
Its thin profile makes it easy on the hands and lightweight in use, plus it comes preloaded with a few Google apps like Youtube and Google Maps.
Features:
It does not require activation fees if activated online
Features built-in Bluetooth capabilities
Compatible with both 4G and LTE
Flip Phones Compatible With AT&T
Pair these flip phones with AT&T's unlimited 55+ plan for unlimited talk time!
This cell phone from Easyfone is ideal if your elderly loved one is living independently and keeps themselves busy by traveling around their area.
Its attractive price also makes it approachable for seniors who may be living on a fixed income. If you're worried about your elderly family member's location, this flip phone also has GPS tracking.
In case you've had experience with an unknown caller ID contacting your loved one, the Easyfone also comes with a clearly-labeled and dedicated "Block" button.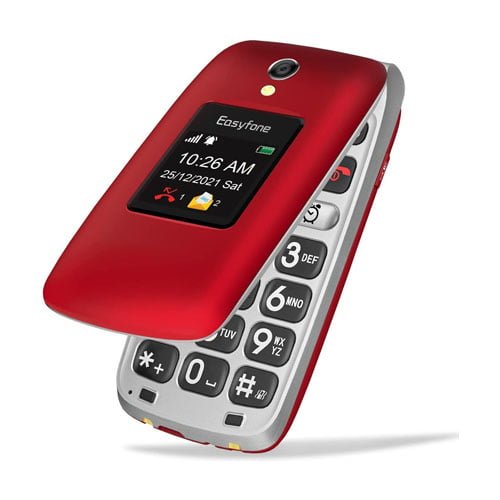 Features:
It comes with an external display for quick details
Large keypad with easy-to-read-text
Hearing-aid compatible
The TIANHOO Flip Phone is a nifty device that removes the need for wires, thanks to its charging dock station! Your senior loved one can simply plug it in and out when needed, no fumbling.
I also appreciate its longevity thanks to its wide array of connection options. The TIANHOO supports 2G, 3G, 4G, and LTE networks!
Despite its small size, this cell phone can also serve as a mobile hotspot in a pinch, thanks to its enhanced connectivity.
Features:
Large capacity battery for 10 days of battery life
Bluetooth capable for increased connectivity
SOS function for added safety
The Go Flip is a lightweight wonder from Alcatel with an intuitive design and easy-to-read buttons. The keypad is also backlit, making it usable even in dimmer conditions.
This phone has a relatively small screen compared to its peers, but it makes up for it by being Bluetooth capable and having a high-quality camera.
Unfortunately, the Go Flip doesn't come preloaded with any useful Google apps, but I like its unrivaled no-fuss functionality. Only the essentials for this device!
Features:
Lightweight and ergonomic design with a grippy texture
Storage can be upgraded with an external memory card
Speedy, thanks to its quad-core processor
Frequently Asked Questions (FAQs)
Learn more about the different flip cell phones that AT&T carries here!
Does AT&T Have a Simple Phone for Seniors?
Some seniors only need simple flip phones that work as intended and are no-fuss. I believe the ideal device for this is the Kyocera DuraXE Epic.
This tough little flip phone features HD voice capability and is built to last a long time. It's also got a long battery life and a removable battery, in case your loved one needs to upgrade.
To assist seniors who may have difficulties holding onto their cell phones, the Kyocera DuraXE Epic is drop-proof. It's also waterproof AND dust-proof!
Does AT&T Offer a Senior-Friendly Smartphone?
If your elderly loved one can handle more than regular flip phones, then AT&T has senior-friendly smartphones too! They offer the 3rd-gen Apple iPhone SE, the latest on the market.
The Apple iPhone SE is a neat and compact device, despite being a touchscreen. This phone can be utilized without ever touching it, thanks to the voice commands in its virtual assistant!
Seniors who aren't afraid to move into the world of touchscreens will be able to make full use of Siri to surf the web. This device is also 5G capable, so your loved one can enjoy blazing-fast speeds.
I recommend the iPhone SE because of its large and intuitively-designed screen. It's also hearing-aid compatible!
SAVINGS TIP: If your loved one is short on cash but still wants an iPhone, they can trade in their old cell phone for a chance at a discount.
Does AT&T Offer the New Flip Phone?
Nowadays, the definition of a "flip phone" has changed somewhat. While the standard 2-piece phones are still being made for seniors, Samsung has developed a touch screen flip phone.
AT&T currently carries the Samsung Galaxy Z Flip 5G, which is a mouthful of a name. This cellular phone is a flip phone that doubles as a touch screen, thanks to Samsung's new glass technology.
Tech-savvy senior citizens may enjoy this device. The Galaxy Z Flip 5G retains the style of a traditional flip phone, meaning it has a small profile when kept folded.
However, it can be used similarly to a 2-in-1 laptop when unfolded. Note that this phone has a hefty monthly price, so ensure that you or your loved one can afford it if they decide to avail of this offer.
Does AT&T Have a Special Plan/Discount for Seniors?
Unfortunately, AT&T no longer offers senior discounts for their cell phones, but they do offer discounts for their cell phone plans.
Until recently, AT&T offered a Senior Nation plan that featured calls for senior citizens, which has since been discontinued. Your senior loved ones can avail of AT&T's Unlimited 55+ plan instead.
Their Unlimited 55+ plan can support multiple lines simultaneously. Plus, only the account holder needs to be a senior citizen! However, I was disappointed to learn that this plan is only offered in Florida.
AT&T gives bonuses on their unlimited plans for users with multiple lines, so your loved one can save money on their cell phone bill. They can also sign up for paperless billing for more discounts!
Are There Any Other Senior Discounts?
Apart from these discounts, AARP members can get a 10% discount on their plan. AARP members can avail of this discount with proof of membership at the nearest AT&T retail store.
Senior veterans can also get a 25% discount on their monthly bill.
Which Cell Phone Is Easiest to Use for Seniors?
A flip cell phone is ideal for seniors since its layout is plain and simple.
Unlike smartphones which can be confusing to navigate due to their many menus, a flip phone has all the buttons your elderly loved one will need right on its large keypad.
For simplicity and ease of use, I recommend the Cingular Flip IV. The buttons on this flip phone have a large and easy-to-read font complemented by the large keypad.
Plus, as a bonus, the Cingular Flip IV can be paired with one of AT&T's Unlimited talk plans so that your family will have an easier time keeping in touch.
Conclusion
Despite the prevalence of smartphones and touchscreen devices these days, you and your elderly family members still have many choices regarding senior-friendly phones.
When looking for flip phones for seniors, remember to speak with your loved ones and ask them which features they need. It's important to get their input on this!
The best flip phone I've discussed is the Cingular Flip IV, thanks to its approachable price, strong battery, and hearing aid compatibility.