One of the most crucial indicators of a person's quality of life for those with disabilities is their independence in terms of mobility.
Many of us may eventually need mobility aids, whether it's through age, disease, disability, or injury.
Wheelchairs are arguably the best option when it comes to tools that allow people to move from one place to another safely and easily.
Customers can select a chair that fits their specific requirements and provides them with the mobility independence they need, thanks to the wide range of available alternatives.
I have compiled a list of the best wheelchairs available for older people, allowing users and caregivers to go where they need to safely and quickly.
KEY TAKEAWAYS:
One form of mobility assistance an older parent or relative may pick to stay mobile is a wheelchair.
The most popular kind of wheelchair is a manual wheelchair, in which the user uses their arms to move the chair forward and backwards. Additionally, this kind of chair has handles that enable a second person to push it from behind.
Power chairs enable simple fingertip steering. A motorized chair also has constant assistance for the hands and arms. With handlebars, or "tillers," electric scooters are operated, requiring additional upper body power. This is necessary since the tiller/handlebars must be stable enough to be held for long periods.
What Are the 10 Best Wheelchairs for Elderly?
What does the best wheelchair for seniors look like? What qualities does it highlight?
My top recommendation might not be ideal since your needs may be unique. That's fine and to be expected. Thus, I'm offering the best wheelchairs for elderly people.
The demand for more advanced wheelchairs grows as our elderly population expands.
The Karman LT-980 Ultra Lightweight Wheelchair weighs 24 pounds and is among the best wheelchairs on the market today.
Both the seat and backrest of the Karman Ultra Lightweight Wheelchair, which weighs only 24 pounds, are padded, making it incredibly pleasant to sit in for extended durations.
Each user has a different seat height. The majority of users might need their wheelchairs to be adjustable. It has a weight capacity of 250 lbs.
The height and the angle at which a user would want to position their pressure in this lightweight chair can be altered using two positions.
The Medline Ultralight Transport Wheelchair is one of the lightest chairs available. After using one for myself as a caregiver, it's simple to understand why so many people adore it.
With a weight of only 15 pounds, the Medline lightweight wheelchair offers a secure means for users and caregivers to transport the chair wherever they go.
The caretakers who may not be the strongest individuals or frequently have to lift the chair into and out of a trunk will find this extremely beneficial.
This transport chair with a 300 lb weight capacity is the right wheelchair for indoor and outdoor use, carrying a senior or loved one around the neighborhood, or dining out.
Discover why this adult transport wheelchair is the best choice by looking at its many wonderful wheelchair features. The best transport wheelchairs may be found right here.
The Strongback Mobility Excursion Lightweight Foldable Transport Chair is one of the greatest options for people needing additional back support.
Thanks to its robust, ergonomic design, this chair promotes healthy posture while it support users in all the appropriate areas.
This ergonomic wheelchair assists the user in sitting in a way that relieves pressure from sensitive spots, with the help of a curved back and carefully calculated angles.
This wheelchair by Strongback Mobility conforms to and supports the user's natural and healthy lumbar curve. The chair folds down easily for storage and transportation.
What distinguishes a transport chair vs. a wheelchair? You may find a detailed discussion in this article.
The Drive Medical Blue Streak Ultra-Lightweight Wheelchair is a self-propelled chair that can be a fantastic option for someone who needs a chair but doesn't always require extra assistance.
There are various Drive Medical manual wheelchairs available that are more appropriate for frequent, long-term use.
However, consumers chose this Drive Medical chair because of its remarkable capacity to perform admirably as either a self-propelled or an assisted chair.
Modern design wheelchair features found on these Drive Medical wheelchairs for elderly people include swing-away leg rests, calf straps, and removable armrests for simple transfers.
These foldable, light Drive Medical wheelchairs have a comfortable 18-inch padded seat, ergonomic design, and a useful seatback pocket.
One of the most resilient wheelchair types available is the Cruiser III, which is also reasonably priced.
This design uses a carbon steel frame, which does away with the requirement for a seat guide and permits using back inserts and other practical wheelchair attachments.
It has precision-sealed wheel bearings that guarantee consistent performance and quality over an extended length of time. The silver vein finish is lovely and simple to care for.
The 8-inch front caster wheels offer a smooth ride across most surfaces, and the precisely sealed wheel bearings in the front and back guarantee long-lasting performance.
Includes composite Mag-style wheels, push-to-lock wheel locks, swing-away or rising leg rests, removable armrests, and black nylon upholstery as standard features.
A beautiful design is the Karman S-305 Ergonomic Wheelchair. It is expensive but worth it, so don't pass it up! Suggested for those who have ongoing mobility concerns.
Despite its excellence, another wheelchair will be a better overall "fit" if you only need one temporarily. It has quick-release wheels, flip back, and height-adjustable armrests.
This wheelchair is the finest option for seniors with limited mobility, with a trustworthy companion to help them travel around when they're too exhausted.
It offers the appropriate design to fit the human body to relieve pressure, improve stabilization, distribute weight evenly, and reduce the danger of pressure sores and scoliosis.
The sitting frame is curved like an s, offering unequaled comfort and anti-slip support. The upholstery is made of stain-resistant material
Karman proudly presents the item that will redefine ultralightweight at the highest level of competition.
The manufacturer combined a lightweight metal (Aircraft Grade T6 Alu) with the best wheelchair design geometry.
What you get is a wheelchair that works and has a far more affordable price tag than any titanium wheelchair, bringing economic growth right into your home.
Karman created a wheelchair with a truly ergonomic design with users and their companions in mind, from the ergonomic seat to the ergonomic handrail.
Form, fit, function, and comfort have all been considered while designing every component necessary for daily use.
Being with the people you love and traveling to the places you wish to go are essential components of living fully. For this reason, I adore travel chairs.
They are a game changer since you can take them almost anywhere because they are much lighter and smaller than conventional wheelchairs.
A lightweight aluminum frame and padded upholstery are features of the Lightweight Transport Chair with Rear Wheels.
It may be easily folded, and for added convenience, it features desk-length arms that are padded, detachable, and reversible.
This transport chair boasts locking rear wheels and hand brakes for enhanced security and control.
The ProBasics K7 heavy-duty wheelchair has an extremely durable design that may support users who need a broader seat and a wheelchair with a higher weight capacity.
It provides a tough yet attractive choice for the bariatric patient population, with seat widths ranging from 24 to 28 inches. This chair weighs 58 pounds.
There are two seat sizes and a weight capacity of 450 lbs for this wheelchair, with a vinyl upholstered seat, removable desk-length arms, and elevating leg rests.
Getting about is simple and uncomplicated thanks to the rear urethane wheels. The robust hand rims are made to be used daily and provide gripping assistance.
Reliability and comfort are combined in this durable medical equipment. The armrests can be removed when not used to provide greater movement space.
NOVA respects the strength of joy. They are motivated by our consumers who choose joy every day, and at every turn; they are led by joy.
They think that love and unity are equivalent. Their transport wheelchairs facilitate interaction and facilitate existence.
The desk-length arms and removable footrests of the Nova HD Steel Wheelchairs are detachable and reversible.
This self-propelled wheelchair has flame-resistant black nylon upholstery and dual axle locations for easy seat height conversion.
There are accessories for this product that are industry compatible, and the user may self-propel thanks to the 24″ rear wheels.
Benefits of Wheelchairs for the Elderly
People become less mobile as they get older. In the United States, one in five senior individuals has mobility issues.
People with mobility problems frequently struggle to move independently because of pain, discomfort, or other obstacles.
Wheelchairs are made to give users more independence while also improving their quality of life and self-confidence. The advantages of wheelchairs for seniors are listed below.
Increased Mobility
People's muscles and joints weaken as they age. Many seniors want to take advantage of the great outdoors, spend time with friends and family, and participate in activities.
But because of their mobility problems, they are restricted to their homes.
Seniors can use wheelchairs for movement. Wheelchairs are made to make it easy for users to get around their homes and enjoy the outdoors.
Wheelchair-using seniors have an active lifestyle, report having a great quality of life, and report having more flexibility and independence.
Improved Safety
With a wheelchair, you may enjoy life safely and comfortably with a newfound sense of freedom.
When you have a wheelchair, you can visit friends and participate in social events and clubs.
Seniors who would have otherwise been confined to their houses and lived alone report that once they become mobile and comfortable using a wheelchair.
Reduced Risk of Injury
Wheelchairs are made with safety features and comfort in mind.
They have removable footrests, seats, backrests, armrests, headrests, cushions, and other components to alter the chair to the ideal size for your loved one.
By doing this, people can rest comfortably in a chair and reduce their risk of getting hurt.
Some wheelchairs also have extra features like brakes or anti-tip wheels that improve security by reducing the risk of accidents like falls or collisions with objects.Are you trying to find the best cushions for wheelchairs? See this page.
Types of Wheelchairs
To make a choice easier, here is a guide to the many wheelchair types. What type of wheelchair do you prefer? Check out the types of wheelchairs in detail here.
Manual Wheelchairs
Manual wheelchairs are the primary wheelchair category. The user or another person pushes this kind of wheelchair.
Manual wheelchairs are a good option for people who can use their upper body strength to push themselves around.
The person using a manual wheelchair propels the chair by pushing on the bars that encircle each of the wheelchair's large wheels, which typically causes the chair to roll forward.
Additionally, the wheelchairs feature handles on the back so that another person can push them. Here are some of the best manual wheelchairs available right now.
Lightweight Wheelchairs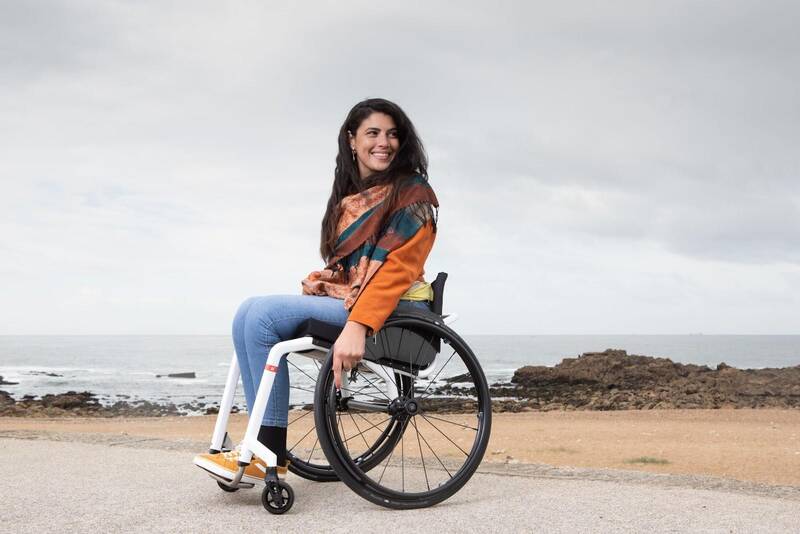 Lightweight wheelchairs: As the name implies, these wheelchairs weigh less than 36 pounds, making them lighter than standard wheelchairs.
Most include greater customization choices, including movable armrests, swing-away footrests and backs, and more comfortable cushioning.
Bariatric Wheelchairs
A bariatric wheelchair designed specifically for people who weigh much more than average can support the additional weight.
Having double the strength of a regular wheelchair, a bariatric wheelchair is a powerful wheelchair.
Standard wheelchairs often have a weight capacity of up to 250 lbs, whereas bariatric models can assist much heavier users.
A basic bariatric wheelchair typically weighs 18 to 22 kg, while electric wheelchairs can weigh up to 70 kg or even more.
Electric Wheelchair
More and more people are looking for the best wheelchair for elderly people as our population ages.
For older adults who want a little assistance moving about, electric wheelchairs can be a terrific solution.
Battery-powered wheelchairs can travel anywhere, including up hills and rough terrain. If your need for a chair is not short-term, a powered wheelchair is much better.
Power wheelchairs are sometimes confused with electric or mobility scooters, but some key differences exist.
Seniors can move around independently, thanks to how simple an electric wheelchair operates. When selecting the best electric wheelchair, there are a few considerations.
First, check if the chair is cozy and has all the required functions. Second, make certain to pick a reliable company with excellent customer service.
Finally, confirm if Medicare or private insurance will pay for the chair. You can find the best electric wheelchair for your senior loved one with a little investigation.
The best electric wheelchairs for 2023 may be found here.
Motorized Wheelchair
Important Features to Consider When Buying a Wheelchair
No one wheelchair works best for everyone while searching for the finest wheelchair for older persons. The reason is that each elderly person has different needs.
Therefore, the wheelchair that is "best" for an elderly person depends on their unique demands. Here are all the features you need to consider:
Manual or Electric
One of the first things you should think about when purchasing a wheelchair for yourself is whether you can propel yourself or if you need a little help.
Most manual wheelchairs typically have features that make traveling easier for the user. It frequently has large wheels on the back, and the push rims on its rear wheels are common.
On the other hand, caregiving transport wheelchairs have handles that the caregiver can use to control the mobility device easily.
They also have larger wheels, which aid in stabilizing the chair when moving over rough terrain and surfaces.
Finally, an electric motor moves electronic wheelchairs in the direction specified by the remote control.
This enables the user to walk around without much effort or help, albeit it is typically more expensive.
Wheelchair Weight and Size
There are numerous excellent chairs available to satisfy this demand. Sometimes a lightweight, folding chair is required to fit easily into the trunk of a car.
Other times, a stronger, heavier model is required to accommodate a larger person or someone with severe muscle weakness.
A comfortable chair for one senior citizen might not be the best option for another. Depending on the wheelchair model, access to public spaces can occasionally be a problem.
Other models feature a higher seat, which is necessary for some elderly and older adults. Some seats are lower and are simpler to get into and out of.
The user should consider the most comfortable height before selecting a chair.
User Strength and Ability
Your physical strength should be one of the key considerations when looking for a new wheelchair.
Consider choosing versions with power-assisted wheels or even an electric one if you cannot move your weight.
Even if they cost more, they are a wise investment that can enhance your lifestyle and health. Additionally, think about where you'll utilize it.
Do you intend to ride it outside on a rougher surface or use it inside? If you want a wheelchair for outdoor use, you can check into the ones with high-traction wheels to add greater stability.
Here is a list of the best wheelchairs for outdoor use.
User Body Type (Shape, Weight, Build, Height)
Before committing to the purchase of a wheelchair, it's crucial to take into account your physical makeup.
To select the model that best fits you, consider every part of your body, including age, sex, height, and weight.
Ask your physician or physical therapist for a wheelchair recommendation that suits your requirements.
With only a fast online search, you can also look up the wheelchair's special features and measurements.
Personal Needs and User Requirements
Wheelchairs are used differently by different people for various purposes.
People with exceptional needs, such as those who are paralyzed or have had limbs amputated, differ from those who aren't.
Some users need greater safety precautions and balance systems to avoid falling. The best action to know the specifics of your health demands is to consult a medical specialist.
Lifestyle
When buying a wheelchair, you need to examine your lifestyle.
Some versions will suit your demands better than others if you must perform specific activities for your job or only need a unit to make movement easier.
If you enjoy being outside, you might want to think about a wheelchair with great traction to simplify navigating rocky terrain.
Traveling in a wheelchair that is simple to move will make traveling through smaller spaces in your home less difficult if you like to stay at home.
It would be best if you decided which wheelchairs best suit your lifestyle from among those with varying components, features, specs, and qualities.
Personal Taste and Preferences
It would be best if you consider your tastes and preferences while buying a new wheelchair. You are the one who will use it frequently, after all.
If you're having trouble finding a wheelchair that meets your needs, ask family members or friends who have used wheelchairs before for some recommendations that you may test out.
Read the product reviews on the unit's website before buying it if you locate one that you believe will work.
By learning from other people's experiences with the goods, you can fully understand what you're getting.
Transport and Storage Capabilities
Several wheelchairs on the market have a foldable or compact package for simpler transport and storage.
You should still think about obtaining a wheelchair with these features, even if it isn't your top priority, to avoid the hassle of owning a large and uncomfortable model.
Driving Control
The most common control system for electric wheelchairs is a set of directional controls attached to the armrest.
These are simple to use and simple to operate. They do have a small learning curve, though.
Wheelchair Components and Features
These are some components and features of a wheelchair that you might want to take note of:
Seats
Being the section of the wheelchair where you sit, the seat is a vital feature of the wheelchair. These come in various sizes, but most brands can tailor your unit to your body shape.
Choose a seat with enough padding to keep you comfortable for extended periods and great lumbar support.
Cover Material
The cushion of the wheelchair is covered with a material called "cover material," as the name suggests.
It is preferable to use simple, clean, and durable materials. Additionally, they ought to be portable and microbial and dirt-resistant.
Headrest
There may be a headrest in your wheelchair to support your neck.
Footrests and Armrests
When necessary, footrests and armrests provide a lot of support and comfort, but it's also beneficial to have removable and adjustable ones so they can be removed.
Storage Bags
A storage bag is included with some models to make transport easier.
Added Customization, Adjustments, and Accessories
Several add-ons can make a wheelchair more comfortable and promote independence. (e.g., Weather protection, Foldability, Brakes, Pop-off wheels, Extra wide seat, etc.)
Spending more on comfort and mobility upgrades can be a wise investment if the user uses the wheelchair for a long time.
Weather Protection
Modern or high-end wheelchairs come with a lot of useful functions.
Some, for instance, assist you in staying warm during chilly weather by having a waterproof function or adding leg warmers.
Does Medicare Cover Wheelchairs?
While a power wheelchair necessitates a face-to-face discussion and a strong claim in a prescription that the power feature is medically necessary, Medicare Part B should frequently reimburse a significant percentage of the cost of transport chairs.
A person typically pays 20% of the Medicare-approved price. Therefore, the full cost of the transfer chair is probably not covered without assistance from another insurance company.
For further information on how Medicare covers wheelchairs and transfer chairs, consult this official Medicare documentation and, if necessary, speak with a primary care physician.In this post, you'll learn how much a wheelchair costs.
Frequently Asked Questions (FAQs)
Here are some of the most asked questions about wheelchairs for older people:
What Is the Best Size of Wheelchair for Me?
Measuring is the best action to take. Verify that the person using the wheelchair is seated straight before sliding a hand between the cushion and the back of the knee.
There should be enough room for two fingers to pass through. Long-legged wheelchair riders may have a wider space; up to 60 mm is acceptable.
How Long Is the Lifespan of a Wheelchair?
Depending on how frequently it is used and the type of terrain it is mainly used on, a wheelchair typically has four good years left.
During that time, normal wear and tear will occur, but once the first indications of repairs appear, you must carefully consider the potential repair expenses.
What Is the Difference Between a Wheelchair and a Transport Chair?
Transport chairs have 8″–12″ rear wheels that cannot be accessed while the user is seated on the chair. There are a few drawbacks to all transport chairs.
However, wheelchairs are designed with larger 18″–24″ wheels and a revolving railing that is simple to hold and allows the user to move ahead.
What Are the Three Main Types of Wheelchairs?
The three primary types of wheelchairs are manual, power, and transport wheelchairs. Each has advantages and is used to give individuals needing it some movement once more.
Are There Any Ways to Get a Free Wheelchair?
Wheelchairs may be available through neighborhood programs or charitable gatherings in your area. Several churches and nonprofits organize drives to support the elderly and the disabled.
Even though some of these neighborhood institutions may have informative websites, you should call around to explore your possibilities.
How Long Does It Take To Receive a Wheelchair on the NHS?
Within 18 weeks of getting your referral, the NHS hopes to send you your equipment. The wait time is longer if you require a specialist assessment and specialized equipment.
What Is the Cost of Buying a Wheelchair?
A manual wheelchair will cost you anywhere between $100 and $500.
The wheelchair's construction material is one of several variables that might affect the cost of a manual wheelchair. Which manual wheelchair did you purchase?
The normal price range for an electric wheelchair is between $1,000 and $15,000.
What Is the Cost of Renting a Wheelchair?
Expect to pay, on average, $10 to $50 per day for a wheelchair rental at most theme parks or $75 to $200 per month for a regular wheelchair from a nearby medical supply store.
Where Can I Rent a Wheelchair?
By calling Scootaround toll-free at 1-888-441-7575 or making a reservation online, you can borrow a wheelchair for the day.
How Long Do Wheelchair Batteries Last For?
The typical battery life of a wheelchair is between one and two years. You might only receive roughly six months' worth of battery life if you purchase a low-quality battery.
How long are electric wheelchairs good for?
A completely charged battery typically lasts for around eight hours of operation. A battery will operate at its best for around 1.5 years before needing to be replaced after 12 to 24 months.
Conclusion
Every wheelchair is different, and every wheelchair user has different needs and tastes. So, which wheelchair is ideal for senior people?
The wheelchair that best suits the needs and preferences of the older user and enables them to lead happier, more satisfying lives is the finest wheelchair for them.
As a result, if you or an elderly person are considering getting a wheelchair, know that it can be a terrific method to improve your quality of life physically and emotionally.
Even if the chair I chose as my top selection isn't the ideal fit for you, I am convinced that one of the other chairs I've highlighted in this article will be precisely what you've been looking for.