A compact and lightweight companion that can spark joy in any older adult powering through family outings, travels, and lunch dates is a reliable transport wheelchair.
To help you choose the best transport wheelchairs that are easy to use, comfortable, durable, and offer great value for money, I've listed the seven best transport wheelchairs and a complete buying guide on what to look for.
Let's get started!
The 7 Best Transport Wheelchairs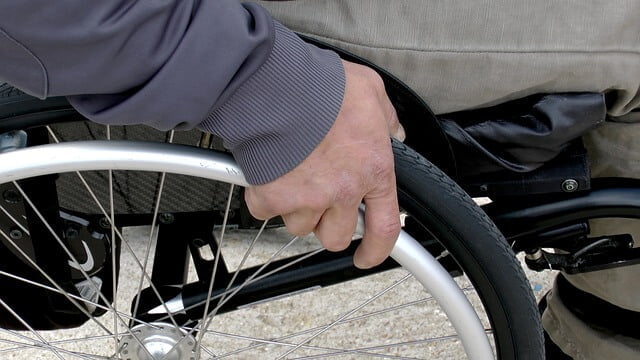 The ever-reliable transport wheelchairs are not the same as regular wheelchairs primarily because of their smaller wheels, lightweight design, and ability to be folded to a smaller size.
In creating this list, I chose the best transport wheelchairs based on extensive research, considering convenience, comfort, durability, and value.
Read on to see what makes these transport wheelchairs the best options on the market!
Medline is known for its durable medical equipment, including transport wheelchairs, and one of these is the foldable Medline Lightweight aluminum transport chair for $171.45.
This Medline variant is made with nylon upholstery, which is breathable and easy to clean. This characteristic added comfort and ease for everyone sitting on it, including me, when I tested it.
Apart from that, I found its full desk-length armrests and removable footrests, which swing away, highly comfortable. They improve user security in the wheelchair and act as added support for balance.
When it comes to security, a wheelchair user can be at peace knowing that this lightweight wheelchair is made with loop-style manual hand brakes and seat belts, which are reliable safety features.
You're sure to receive top-notch care with Carey. They offer a transport wheelchair with all the essential features to help you create fantastic experiences in a wheelchair user's home or outside for $151.99.
This transport wheelchair is a force to be reckoned with as it was designed with relaxation, portability, and support in mind for both the person pushing (assisted operation) and sitting, as it offers the following characteristics:
Swing-away footrests that are removable for compact storage in car trunks and offer enhanced leg support
Its 19-inch seat width keeps older adults comfortable while sitting, giving them enough space for the body to twist around.
An added seat belt for safety and security when crossing the street, riding the car, or navigating indoors
However, compared to the sleek black and silver combination of the Drive Medical wheelchair above, this one offers only one color option: a black and blue combination.
A silver frame with clean black upholstery – that's what you get in terms of visual appeal with the Drive Medical TR37E-SV transport wheelchair for $130.56.
Given its sleek design, I can't deny the fact that it's also functional as it is equipped with the following features:
Nylon upholstery for a durable padded textile
Padded armrests for comfort, security, and balance
Wheel locks for safe user transfers
Upholstery handles for easy storage and folding
Swing-away footrests for better posture and relaxed legs
What I liked most about this Drive Medical transport wheelchair when compared to the Medline lightweight wheelchair is that you can attach a cup holder to the former, which makes hydration more accessible.
Another Drive Medical model worth mentioning is the Fly-Lite lightweight transport wheelchair in plaid style for $209.
Out of all the designs of the transport wheelchairs listed, this Drive Medical variant is the most unique visually, offering a plaid style on nylon upholstery.
Also, the padded textile is very efficient in reflecting heat and facilitating breathability.
Aside from their design, these models of lightweight transport wheelchair weigh only 18.9 lbs, making them easy to carry, especially when folded.
The Drive Medical Fly-lite lightweight transport wheelchair includes a seat belt for safety, adjustable swing-away footrests for comfort, a cup holder for hydration, and aluminum rear wheel locks for user security.
But, what this model has that other transport wheelchairs don't have is a carry pocket on the backrest for extra storage space, allowing users to bring essentials and other goods.
Dining outdoors should be a breeze with this Medline Ultralight transport wheelchair that can help you sit closer to tables than other models, improving comfort and quality of life for $150.45.
This transport chair is made of high-grade aluminum for a higher strength-to-weight ratio and corrosion resistance.
I'm not too fond of this transport chair because its padded armrests are shorter than other transport chairs on the market.
It may spell the difference when it comes to arm comfort and balance, but the rest of the wheelchair still functions well.
I found this transport chair to be highly portable thanks to the show-and-go clips on the swing-away footrests, as these keep the footrests tucked securely out of the way when you don't need them.
What's most important is that this transport chair is made up of nylon upholstery which ensures that seniors, especially during hot days, have a more breathable backrest and seat to sit on.
The Everest & Jennings Deluxe transport wheelchair for $286 is excellent for users who want to take a quick rest while traveling.
This transport chair is made of an aluminum frame with blue and black color options. Its black padded nylon upholstery looks more well-thought-out in terms of visuals than other lightweight transport wheelchairs on this list.
Moreover, it provides full-length padded armrests that offer an ergonomic place for your arms to rest during long trips.
This armrest transport chair feature differentiates the Everest & Jennings model from the Medline Ultralight transport wheelchair, which has armrests that come a bit short.
Also, its locking brakes (rear wheel brakes) or parking brake makes all the difference as they can be easily maneuvered by hand, unlike other designs that need you to awkwardly step on them.
You can also fold it easily and use its built-in carry straps to store it in your car trunk or other storage areas.
There is also a 3-inch webbing black nylon leg strap with adjustable loops, perfect for a person sitting to keep their legs in place. It perfectly complements the chair's swing-away footrests.
The Nova transport chair has your back with its comfortable backrest (fold flat), removable footrests, and rugged natural rubber front and rear wheels for $399.95.
The Nova lightweight transport chair folds flat with the quick-release fold-down technology, making it compact in a snap. Aside from that, the footrests swing away to keep the area spacious for when you're sitting or standing.
Based on my experience, the footrests of the Nova lightweight chair are top-notch, as it has a non-skid foot plate for more grip and security when you rest your feet.
Another thing that makes this aluminum transport chair a cut above the other chairs are the flip-up desk arms that make it easier for a caregiver to transfer you from one place to another without armrests hindering your way.
Its wheels are also noticeable, as it has smaller front wheels and large rear wheels made of rugged rubber to match any surface for convenient indoor and outdoor use.
Types of Transport Wheelchairs
There are two types of wheelchairs: manual and electric. In this section, we'll learn more about their designs and how they differ.
Manual Transport
Manual transport wheelchairs are those which operate by hand pushing. It is powered by human force and not electricity or batteries.
Although it is less feature-rich than modern wheelchairs (i.e., battery-operated ones), it can still get the job done. It is considered a helpful tool, especially for older adults, because of its accessibility and ease of use.
Moreover, in terms of cost, manual transport wheelchairs lean more toward the affordable and budget-friendly side.
Electric Transport
On the other end of the spectrum is an electric wheelchair, sometimes called a mobility scooter.
As the name implies, an electric transport chair runs on electricity and is powered by batteries. This type of transport wheelchair can be operated by the user using straightforward controls.TIP: Get the best electric wheelchairs for those with limited mobility due to old age, disability, or injury from this article.
Benefits of Transport Wheelchairs
Nowadays, transport wheelchairs hold value in the daily life of people, especially seniors or older adults, because of the comfort, convenience, and mobility assistance they provide.
Here are some of transport wheelchairs' benefits:
Increased Mobility
With age comes weak bones or other diseases that hinder the ability to move freely and independently. This is where transport wheelchairs come to play.
With a transport wheelchair, you regain or increase mobility and can move at the same speed as your companions during travels and vacations.
This benefit can also be achieved with the best wheelchairs for the elderly, the best lightweight wheelchairs, and the best wheelchairs for the outdoors.
Increased Independence
Transport wheelchairs, particularly electric ones, can increase user independence as you can now move autonomously and explore the world with zero to minimal assistance from others.
Improved Quality of Life
A comfortable and appropriate transport wheelchair can also be a reliable factor in improving the quality of life because of the freedom and accessibility it offers.
It can even reduce pressure sores from sitting uncomfortably for more extended periods.Aside from that, the best-suited transport wheelchair can better your respiration and digestion by allowing you to practice proper posture.
What to Look for in a Transport Wheelchair
Based on my experience and expertise in buying transport wheelchairs, I consider different factors essential in eyeing the best one: comfort, safety, portability, and maneuverability.
Comfort
The first thing you should look at is the comfort that the transport wheelchair can give, and it depends on the cushion, armrests, leg rests, and frame dynamics.
Safety
Safety is also crucial and will depend on the durability of the transport chair's straps, belts, wheels, and other parts.
Portability
A portable transport chair can be defined by how compact it can be when folded and how easy it can be stored and moved during indoor and outdoor terrain use.
Maneuverability
A maneuverable transport wheelchair is equipped with a lightweight aluminum frame for portability, small wheels for easy turning, and efficient brakes that provide security even when exerting force.
Important Factors for Choosing the Right Transport Wheelchair
While scrolling through an online store or standing in front of a physical store, there are certain factors I'd consider before choosing a suitable transport wheelchair.
To help you out, here are the factors that I deem necessary and crucial in choosing the right chair on the market:
Ease of Use
This factor pertains to how straightforward the process of using a transport wheelchair is. I often look at the hand brakes, wheels, and push handles for this.
User Comfort
When discussing comfort, I check for the texture, feel, and thickness of cushions and seat padding, the sturdiness of arm and leg rests, and the reliability and ease the backrest provides.
Durability
In terms of durability, the aspect that I always look at is the material of the chair. Carbon-made chairs are the ones that can survive the test of time (and constant use).
I also look at how the chair folds flat, the composition of the wheels (solid rubber wheels), and the weight capacity of the wheelchair.
Seat Design
Of course, when traveling, you surely don't want a transport wheelchair that is not visually appealing and, worst, uncomfortable to use, which is why seat design matters.
In choosing the seat design, always consider the seat belt, how wide a wheelchair is, seat depth, upholstery material, and cushioning (if applicable).
Take note that for the upholstery material, the best lightweight folding wheelchairs are equipped with nylon for utmost breathability and heat resistance.
Footrests
Count on the footrests or footstool, as they affect how comfortable your feet can be. The best footrests are capable of relieving pressure.
Also, footrests are determinants of how compact most transport wheelchairs are; a footrest that swings is a footrest that allows transport chairs to be folded as much as possible.
Not just that, but moveable footrests are essential in keeping the movement from one transport chair to another easier because there will be much more space in front of you.
Armrests
Armrests are as crucial as footrests because of these reasons:
It secures you from unnecessary movement;
It provides a safe and ergonomic place to rest your arms during long travels;
It is an efficient tool that makes eating, drinking, and writing accessible.
To make sure you get the most out of the transport chairs' armrests, choose those that are padded and can accommodate your full arm length. A removable armrest on a transport chair can help ease transfers, too.
Weight Capacity
Always factor in the weight capacity of your lightweight transport wheelchairs because it will determine whether they can carry you and last long.
When buying, don't just buy transport chairs similar to your weight. Always give an ample margin to get the best out of the transport chair for a long time.
Accessories
In standard manual wheelchairs, traditional wheelchairs, and manual and electric transport chairs, accessories increase the value and functionality of the equipment.
Some of the best accessories that can match your transport chairs are the following:
Back pockets
Cup holders
Hand brake lever
Quick release skewer
Non-skid materials for the footrest and wheels
Wheel Size
A transport chair can only function with its wheels or tires, and the wheel size is equally important.
It is common knowledge that a transport chair has smaller rear wheels (and front) than standard wheelchairs, which have large wheels because of their nature.
On the one hand, a transport chair is designed for a caretaker or family member to do the work. On the other hand, standard wheelchairs can be pushed independently by the person sitting.
On average, the best wheel size for the best transport wheelchairs is within the 8″ to 12″ range.
PRO TIP: To know more about the differences between a transport chair vs. wheelchair, check this article.
Cost
As for the cost, you need to consider what works best for your budget while achieving the very purpose of a transport chair.
Always remember that the lightest transport wheelchair or folding transport chair does not need to be expensive as long as it has all the needed elements to help you feel comfortable and safe while sitting.To answer in-depth your question on how much a wheelchair cost and whether Medicare cover wheelchairs, read these articles.
Frequently Asked Questions (FAQs)
While digesting everything written in this article, I know you want your transport wheelchair-related FAQs answered. Well, with my firsthand experience and expertise, I have answered some in this section!
What are the Top-rated Wheelchairs?
Most transport chairs that are top-rated are listed in this article, including the following:
Medline Ultralight transport chair
Drive Medical transport chairs
Carex transport chair
Everest & Jennings transport chair
Nova transport chair
What is the Distinction Between a Chair and a Wheelchair?
The main distinction between a chair and a wheelchair is that the former does not have wheels, while the latter is equipped with at least four wheels.
How Much Does a Wheelchair Weigh?
On average, a traditional wheelchair weighs 15 to 60 lbs, while a transport wheelchair weighs 15 to 35 lbs.
What is the Lightest Wheelchair Available?
The lightest transport chair on this list is the Medline Ultralight Transport Wheelchair weighing only 15 lbs.
REMEMBER: Transport chairs weigh an average of 20 pounds.
What is the Width of a Wheelchair?
The average width of a wheelchair is 26 inches.
Can Wheelchairs Fit through Bathroom Doors?
Yes, most wheelchairs are designed to fit through bathroom doors to help the mobility and independence of wheelchair users, especially when taking a bath.
How Essential are Handbrakes on a Wheelchair?
Handbrakes are essential in a wheelchair because it provides stability, make stopping easier, and secure the wheelchair and wheelchair users when the situation requires them.
How Much Does it Cost to Hire a Transport Wheelchair?
The cost to hire a transport wheelchair is between $5 and $60 per day.
My Top Picks
Here are some of my top picks for the best transport wheelchairs of 2023!
For $130.56, you can already have a nylon-upholstered and padded standard wheelchair for transport, equipped with removable feet and armrests for a comfortable and secured sitting arrangement.
For $151.99, you don't have to worry about space or security as this is equipped with a wide seat width and a seat belt that can protect you from unnecessary bumps along the road. Not to mention that it has everything you need in a transport chair.
For $171.45, you can sit comfortably, securely, and ergonomically in the best overall steel transport chair that has within its arsenal upholstered nylon that can be easily cleaned and loop-styled hand brakes that take away the worries of bumps when in a massive crowd.
Conclusion
After everything has been settled in this article, one thing is sure: you now know the best transport wheelchairs (lightweight chairs) you can use indoors and outdoors for improved mobility, independence, and overall quality of life.What are you waiting for? Grab your checklist, save this article, and get the best transport wheelchair for you!