Senior citizens watch more TV than any other demographic. It's their lifeline and allows them to stay connected and entertained like high-speed internet does for younger generations.
This makes access to cable TV a must-have for a senior citizen. It allows them to monitor weather, watch regional sports, and even provides the Disney channel when the grandkids come over.
Let's look at the Best Cable TV deals for low-income seniors. We'll look at some of the most affordable Cable TV providers and see how things like free internet and professional installation can sweeten the deal.
The 10 Best Cable TV Packages and Cable TV Providers for Seniors
These cable companies offer affordable cable TV, allowing you to save money through senior discounts and even internet packages.
Let's go through each cable package and see what cable TV deals they offer. We'll go through what other services they offer and how they help low-income families do more than watch TV.
Here are the 10 Cable TV providers for low-income senior citizens available on the market:
1. Spectrum TV Plans – Best Cable TV Service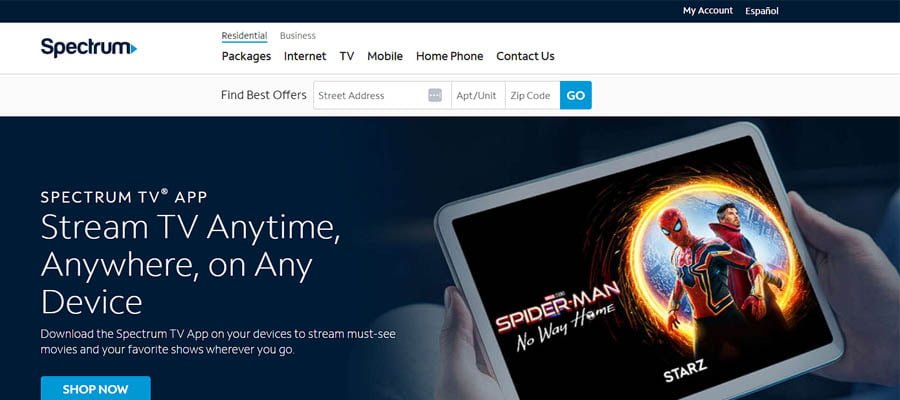 Spectrum is a relatively-new TV service that brings veteran care to senior citizens. This is because it amalgamates Time Warner Cable, Charter Communications, and Bright House Networks.
It's the best cable TV provider for seniors, requiring no long-term commitments. Their TV plans can be canceled at any time without additional fees. They even help you pay any fees keeping you from switching cable providers.
Spectrum is widely available across the US, offering plenty of cable deals for less than $100 a month. They also offer premium channels, a Spanish-language package, and internet service.
Seniors on a budget can count on the Spectrum TV Select basic package as their ideal cable TV plan. This is because it offers over 125 channels for the low price of $49.99, making it more affordable than the competition.
Features:
The lowest monthly price compared to most cable providers ($49.99 for the basic package)
Contract buy-out up to $500 to help you switch service providers
Cancel contracts at any time
Widest availability (41 States)
Offers Spanish language TV for seniors
2. Xfinity – Best Price
The Comcast off-shoot is an internet service disguised as a cable company, with the Xfinity Stream app allowing users to take their cable TV with them on their tablets or smart devices.
This allows users to bring their cable TV with them, as an internet service provider allows them to bring their favorite shows with them on the road or their doctor's appointments.
Xfinity is now the largest cable TV operator in the US. Part of its longevity and reach is that it outclasses internet providers.
Xfinity combines cable TV and internet service plans to give you the best of both worlds. It allows users to avail of a TV plan without making commitments, though it will be better to hold on for at least a year.
Features:
Access to Stream app for on-the-go cable TV service
Largest, most widely-available streaming service (41 States)
Internet and TV plan are available for as low as $35.99 per month
No commitment contracts
3. COX
Cox cares for lower-income seniors looking for high-quality TV, having the lowest possible rate of $25 a month for their TV starter package. That's over 70 channels for almost half the price.
Like Xfinity, COX also offers its streaming platform, giving users access to their favorite shows they can watch anywhere, any time, whether online or offline.
COX is also ideal for users adamant about recording their favorite show to watch later on, giving them an excellent DVR that can record 6 cable TV channels in HD in a single go.
A COX subscription will allow you to view your favorite programs or stay up to date on the latest news, whether on your television, computer, or cellphone.
Features
Exceptional DVR
Cheapest basic package out there
A streaming app that gives you access based on your subscription level
Wireless HDMI cable TV box
4. DirecTV Streaming Services
DirecTV is a satellite service as opposed to a cable TV one. Still, it gives users unmatched access to an assortment of channels other cable companies can only dream of giving at their prices.
DirecTV's basic plan is $74.99 a month, which, while more expensive, gives you an additional 40 channels over basic plans from Spectrum and Xfinity. Its Streaming plan, meanwhile, starts at $69.99.
These plans make it on this list because of their comprehensive services. They give you unlimited DVR storage that lets you record whole seasons of your favorite show to watch at your leisure.
DirecTV offers all your favorite movie channels in one place and allows you to watch them whenever you want.
Features
Free streaming service app
Bundled savings with AT&T
Free premium channels for movies for the first 3 months
No annual, lock-in contracts
5. Optimum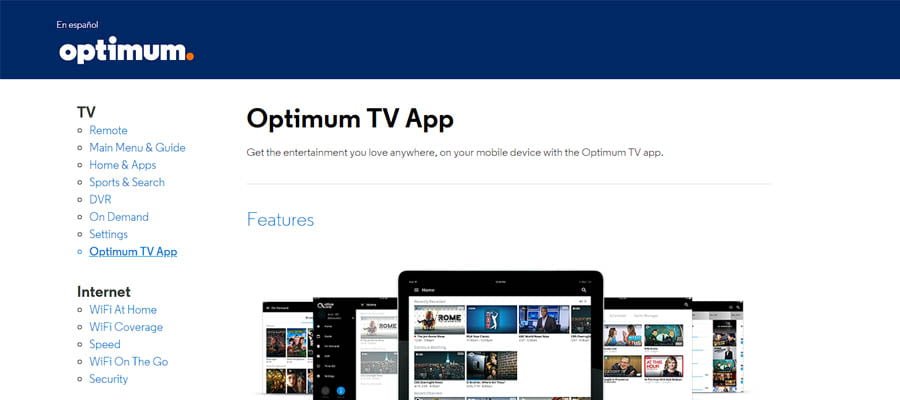 Optimum TV may be the most optimum choice for struggling senior citizens. This TV provider offers cable TV on top of its internet service but all the bells and whistles you'll need on a cable plan.
Optimum lets you add a cable connection for as low as $30 a month. Their lowest plan offers a whopping 220 channels, with their highest offer containing an unfathomable 420 channels.
Optimum offers Apple TV, your favorite streaming services (Netflix, Hulu, Disney+, HBO Max), and a voice remote for maximum convenience. They even offer a variety of foreign channels.
The Optimum TV provider also gives users video on demand and a DVR that can record up to 15 shows simultaneously. They even offer the ability to change and leave your contracts easily.
Features
60-day money-back guarantee
24/7 customer support
Access to many different streaming services
Apple TV
6. MediaCom
MediaCom offers users the best of both worlds regarding internet and cable TV access. The lowest bundle is a cool $29.99 monthly with over 50 channels and an internet connection.
It offers a whopping 100 MBPS for its internet offerings, allowing you to watch the news and give the grandkids something to keep them occupied when they visit. The higher packages even include phone service.
Mediacom's bundles allow users to get the highest connectivity for the lowest prices. Most of their services offer 170 channels with varying download speeds, allowing you the smoothest possible experience.
MediaCom does come with a few downsides, like the fact that you must have a contract bundle to access their cable. The price also increases every few years, which is harder on seniors.
Features
Mediacom offers TV, internet, and even phone bundles
Multiple channel bundles and internet download speeds available (up to 1000 MBPS)
Optional Internet security and 24/7 customer service assistance are available
Available in 22 States
7. AT & T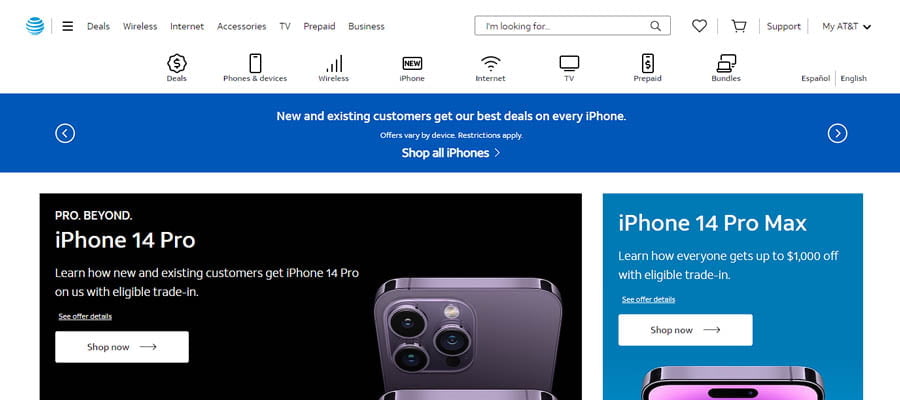 The Cell network company also doubles as a Cable TV company through DirecTV (which replaced AT&T TV). However, those who avail of their telecom needs will find it easy to sneak cable into their monthly plans.
AT&T offers its TV and internet services in multiple packages, with the lowest price of $124.99. It's worth it despite being pricey.
The benefits of these plans include exceptional wifi and unlimited DVR for an additional $10. You get access to over 40,000 on-demand titles, giving you near endless content for your programming needs.
AT&T also includes premium movie and sports channels on the basic tier for the first 3 months, allowing you full access to all your favorite entertainment and the bandwidth to watch it.
Features
Comprehensive internet and TV bundles
Streaming and video-on-demand
No annual contract or hidden fees
75 channels for $69.99 per month
8. Comcast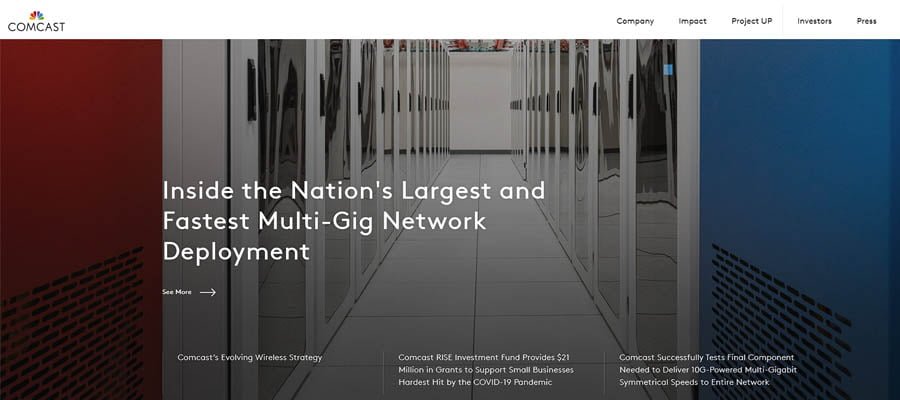 While Comcast's cable TV service may be covered under Xfinity, the mother company still provides for the TV needs of subscribers as one of the largest telecom companies in the US.
Comcast's Xfinity service offers accessibility tools that help senior citizens enjoy their TV watching experience. These include a voice remote with vocal commands and large buttons.
People who grew up using Comcast were shocked when their services changed in 2010. While it took some adjustment, their phone, internet, and TV services mesh well with this new provider.
Comcast used to rule as one of entertainment's most recognizable household names. However, they continue to succeed and serve with their Xfinity service.
Features
30-day money-back guarantee
Low-income assistance for less fortunate seniors
Save up to $40 with combined telecom plans
Accessibility services for seniors
9. Suddenlink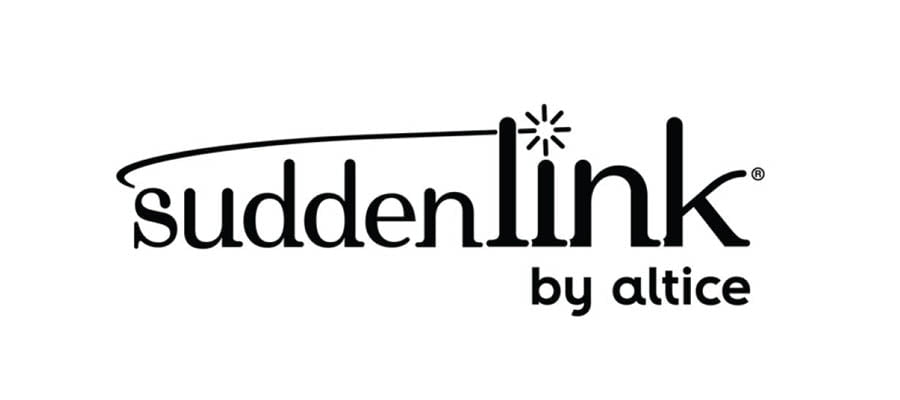 Suddenlink is another brand that went through an arguably-successful rebrand as Optimum. Their services are still under the Suddenlink name, even if you pay for them as Optimum.
Suddenlink offers plenty of internet deals, promising 99% internet reliability. It offers the same extensive features for its TV services, giving users all they pay for.
The Suddenlink service also offers near-unlimited mobile and phone services for as low as $30 a month. You can combine your TV plan with these for the highest network connectivity and accessibility.
Another service Suddenlink offers is additional device protection for $9.99 per month. They have plenty of add-ons to meet your needs, but the most basic services should suffice.
Features
TV-to-Go App available online
Internet packages start at $49.99, with Cable TV add-ons for $30
Family, sports, movie, and Spanish-language channel add-ons
Altice News gives access to all the important local, regional and international news channels
10. Sparklight TV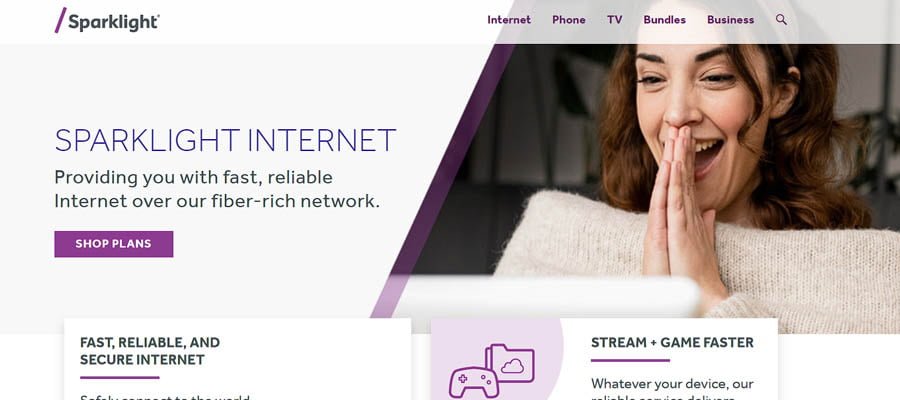 Sparklight TV uses the internet, taking the cable out of cable TV while giving you access to all the channels you love and rely on. It puts you in control of your TV-viewing experience entirely.
Sparklight's amazing features include having restarts and replays even if you're watching a TV broadcast. This is on top of its DVR, which offers over 200 hours of cloud storage for reruns.
Sparklight lets you watch TV on every device you own. You can watch it on everything from your smartphone to your game console. The best part is that there are bundles for every price range.
Sparklight TV allows users to download an app and watch their favorite TV programs without fuss. They also have internet and TV bundles on par with others on this list.
Features
Internet and TV packages
No need for wires or complicated set-up
Up to 100 channels with 200 hours of DVR
Sparklight TV Plus comes with an Amazon Fire TV stick
An Overview of Cable for Seniors Looking to Get the Best Deal
A senior discount is available with almost every service available.
When applied to cable TV plans, it allows low-income families to maintain their cable TV service without worrying about it, adding to monthly costs like internet bills.
Let's look at the best TV service plans cable companies offer for those looking to save money. These senior cable deals include premium channels, cheap internet, and even home phone service.
Choosing the Right Cable TV Provider & Getting the Best Price
You must choose the right TV provider to help you save money while giving you the most channels and best accessibility.
Here are some ways of determining which brand works best for you.
1. Research
You will need to research the different cable TV deals in your area. You must see if the service is available in the area. You must determine if the company offers a senior or PWD discount.
This will help you narrow your search and open you up to service providers you may not be familiar with. Feel free to ask your family members, friends, and other people you interact with what service they use.
2. Check the Websites and Call the Cable Providers
Once you have your top choices, you must do more thorough research by examining the features offered on their website. You must also see if they have any hidden charges like equipment fees.
Once you've found the company that piques your interest with features "like auto bill pay" or no lock-in contracts, you can bring up concerns and curious questions with a sales representative.
3. Negotiate with a Representative
This leads us to the next phase, where you ask a company representative about everything you may need to know and which deals offer the most details for seniors.
These representatives are trained to up-charge or convince you to take the higher deal. You will need to haggle going down, especially if you have financial constraints. They'll have to give in eventually.
4. Internet Deals
You can save even further by looking at deals that combine your cable with your internet connection. These allow you to save money while having more services on the same plan.
Senior Cable Discounts
Low-income households often rely on more than a senior discount to afford "wants" like satellite TV. A dish network isn't cheap, but there are ways to reduce the price.
It's important to ask if they have Veteran or PWD discounts on top of a 10-20% senior discount. Any government help is an excellent way to ensure you don't have to cheap out on a good cable service plan.
Comcast Cable TV for Low-Income Seniors
Comcast does not have a dedicated senior cable TV plan under its Xfinity brand. Instead, it offers internet bundles or phone bundles to sweeten the deal.
This deal may be worth it if you are a heavy internet user. If not, it may be best to look for a different, TV-only deal.
AT&T TV Packages for Seniors
AT&T's DirecTV also doesn't have a senior discount. Instead, they recommend the DirecTV Choice, which is slightly above the basic plan in terms of features and price range.
Spectrum TV Packages for Seniors
Spectrum TV Select may be the best package for seniors, offering over 120 channels at a $50 price tag. It allows you to get your money's worth while enjoying all the shows you love.
Frequently Asked Questions (FAQs)
Here are a few questions regarding some of the most common cable TV service providers. It answers whether these TV providers offer senior discounts and what TV package works best for the elderly.
Does Comcast Give Seniors a Discount?
Comcast and their new TV service Xfinity sadly do not offer discounts for senior citizens. Instead, they offer plenty of TV plans that cover everything from the most basic cable with regional sports to more advanced options.
They offer an internet essentials program for seniors with Medicaid or VA pension on top of their TV package, allowing those with fixed income to enjoy their internet bundle with their TV service installed.
Does Spectrum Cable Give Seniors a Discount?
Most cable companies do what they can to wiggle out of providing senior discounts. However, Spectrum TV does the opposite. It actively encourages seniors to avail of the discounts they offer.
Spectrum stands above other cable services by offering one month free cable for every yearly cable TV plan. Spectrum is the service provider that cares for your needs and financial status.
What's more, seniors in California are entitled to help with their phone and internet bill.
Conclusion
Basic cable costs $20-100 monthly, with most on this list having cable TV deals for about $40-$50. The ideal cable TV companies are those that offer discounts and internet plans.
This makes the cable provider more accessible for low-income senior citizens. It gives them access to affordable cable TV for seniors, allowing them to stay informed, entertained, and in the loop!