If you're taller than 6 feet, you've probably had trouble finding an extra tall walker that you can easily use.
Tall people frequently struggle with the more widely used brands and have difficulty locating the ideal tall walker or rollator.
These walkers offer the right support and stability when moving and can significantly improve the quality of life.
But worry not; I have a few tall mobility walking aids that should work for even the tallest or most tall people.
This article will cover some suggestions to assist you in making the best decision possible.
The 10 Best Tall Walkers for Seniors
Here are some of my top picks, many of which are especially suitable for tall people:
Features:
Padded armrests range in height from 38″ to 47″, keeping your forearms at a natural level and relieving unpleasant pressure on your shoulders and back.
The solid PVC material provides stability and security, 10″ front and 8″ rear wheels, and 360° swivel wheels on the front legs for easy transportation.
Push the hand brake in front to lock the back wheels when seated. Comfortable Seat with Backrest: 18″(L) x 10″(D) x 21″(H) breathable mesh chair, heavy-duty backrest support.
It could be the best option if the user walks slumped over or has weaker hand/arm muscles because it includes padded armrests that make standing up more comfortable (and safer).
Both indoor and outdoor activities are suitable for this walker. From my experience, it was very simple to assemble, requires no tools, and has a small storage footprint.
I checked on their website, and it offers various designs, including all-terrain and compact folding. The maximum person's height setting for the strong and small folding variants is 6'2″.
Features:
The rollator walker's large 10-inch front casters allow for more mobility around furniture and rough terrain while gliding over curbs and other obstacles.
The height-adjustable rollator's handles include push-button height adjustments, and a tool-free thumb screw allows you to raise or lower the backrest.
This adult walker comes with a detachable zipped storage bag with a special attachment ideal for safely storing or carrying personal items..
I truly believe that rollators made by Drive Medical are some of the most stylish and highly regarded rollators available.
It's the only walker I've seen with a handle that adjusts from 36 inches to a massive 41 inches, making it ideal for someone over 6 feet tall.
This foldable walker is easy to carry! Thanks to its light aluminum frame (17.5 pounds), narrow width (23 inches), and big wheel size (10-inch front castors).
Features:
This senior U-Step medical walker has a sturdy 4-inch front spring-loaded wheel that allows the walker to glide smoothly, even over uneven or bumpy outdoor surfaces.
It just takes one, two, and three simple steps to fold the U-Step 2 folding walker!
With a 23″ overall width and a 29″ turning circle, this narrow rollator walker is 40% smaller than other rolling walkers and can easily fit through a narrow doorway.
A sophisticated walker made especially for those with neurological disorders. It offers more stability, control, and maneuverability compared to other walkers.
My grandfather, who is a Parkinson's patient, uses the optional Laser & Sound Cueing Module whenever he is freezing. A very helpful tool!
This special walker definitely offers exceptional stability, ensuring that you or a loved one can avoid falling and keep their freedom.
I consider this to be the most pleasant mobility walking aid currently available from the Trillium Series.
I can sit comfortably and stroll, thanks to the new quilted padded seat cushion and wide back strap pad stylishly.
The Trillium features a new no brake cables mechanism that simplifies the handle's adjustable height and maintenance.
Features:
The rotating upper handles provide greater room and comfort when seated, allowing you to stop cramming your shoulders into a small space.
Adjustable from 42″ to 51″, the upper and lower handles are suitable for users of different heights. Max. The maximum weight capacity is 300 lbs.
360° Swivel 10″ huge wheels on the front legs offer simple maneuvering for indoor and outdoor use.
The WINLOVE Upright Steerable Armrest Rollator is a light mobility aid created for everyday use, constructed with a backrest and soft fabric.
This walker provided me convenient relief and comfort when sitting on it, unlike a standard walker that would squeeze you into a small space and put undue strain on your arms.
This newly created rolling walker is the perfect companion for your independence and comfort.
Features:
FDA-approved. It weighs 25 pounds and has a compact design that makes it simple to travel and store. You can easily take it for a stroll through the park.
It has 10-inch rear tires and 12-inch front pneumatic tires, making it easy to navigate grass, gravel, and other obstacles on the sidewalk.
Our 17.7 x 9.8-inch seat offers extra area, making it easier for upright walkers with seats to use.
The front and rear pneumatic tires on the OasisSpace Pneumatic Walker measure 12″ and 10″, respectively. I have used it on any surface, including grassland, gravel, soil, and cracks.
The pneumatic tire has a built-in shock absorption mechanism that allows it to cross uneven surfaces gently. The metal frame can also shield against punctures.
It provides you with additional space and has a broader stool. A thicker, plush, and sturdy back belt will support you as you unwind pleasantly.
Features:
Walker handles measure 33.85 to 38.58 inches from the ground. It is the greatest rollator walker if you are 5-6.1 feet tall.
A special steerable large 10″ wheeled walker provides the outstanding passing ability.
When fully opened, they measure 36.8″ x 8.66″ x 15.35″ and have an elegant appearance.
This walker is a stylish, cost-effective mobility device you may be happy to possess. I, myself, too, was happy with this purchase.
It is a light but incredibly sturdy aluminum frame made from the same material as luxury automobiles and the aerospace sector.
With its push-and-go (to unfold) and pull-and-pack (to fold) features, this walker with a seat and brakes also offers unmatched folding abilities.
Features:
The handle height is movable to provide a suitable fit for many users and fits taller individuals between 5'5″ and 6'5″.
The rollator's all-terrain wheels provide superior support and stability, which are huge and 8 inches in diameter.
The detachable rollator bag makes it easy to store daily items safely. Contains a built-in cane holder as well.
The Vive rollator is heavy-duty and dependable, offering stable support and easy rolling over any surface, thanks to its huge 8″ sports wheels.
The aluminum frame can support up to 300 pounds and folds down for simple storage and transportation. It is also resistant to corrosion.
I have tried it, and I can say it has a roomy seat and backrest for convenient on-the-go relaxation. It works well for those between 5'9″ and 6'5″ tall.
Features:
This standing walker seat is 19″ wide by 10″ deep and 21″ high from the ground. It has detachable backrest support for enhanced comfort and posture support.
These 8″ front wheels on these standing walkers for taller elders with seats provide for swift and safe maneuvering on most terrain.
This walker folds to just 9″ x 41″ x 26.5″ to fit in practically any car trunk or back seat.
Seniors may stand tall and straight with stability and comfort because of the height-adjustable stand-up walkers with seats and armrests.
You can stroll or stand while using the walker because it is made to keep you upright. When I used this, my posture dramatically improved, and the pressure on my neck and back lessened.
Stop hunching over and leaning! The handles are made so that you can stand and walk more easily and erectly while maintaining good posture.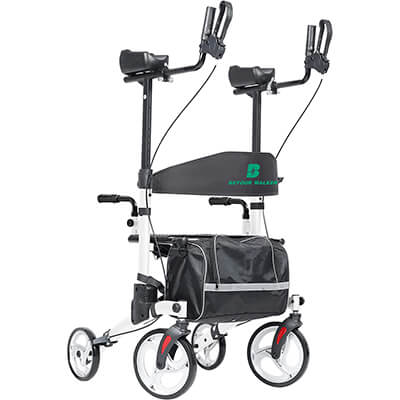 Features:
10″ Front Wheels that roll smoothly both indoors and out and are difficult to topple. Pull to apply brakes; press to lock the rear wheels—dual braking system.
One-handed folding, small design for simple storage. The seat and backrest offer a little reprieve, and the detachable bag and cane holder free up your hands.
Length-adjustable handlebars, armrest tubes, and holding angles offer a more comfortable and natural posture.
Elderly patients, those with neck or back surgery, and those with neurologic or orthopedic disorders can benefit from this walker.
It relieves painful pressure on the shoulders and back, lets you keep your eyes primarily forward, and is safer and more comfortable.
What I like about this walker is that it has larger wheels, an adjustable holding angle, a larger storage bag, and a stronger frame.
What Are the Types of Walkers for Tall Seniors?
The four primary types of walkers are as follows. Each can assist you or a loved one in moving around and has its benefits.
Standard/Conventional Walker: If you're looking for straightforward walking assistance that provides the most stability, a standard (or classic) walker is a fantastic choice. You'll need enough upper body strength to carry the entire device as you move. Standard walkers have four non-skid legs, each capped with a flat rubber tip. Standard walkers are perfect for those who require additional assistance.
Two-Wheeled Walkers: Walkers with two wheels are more stable than three-wheeled and four-wheeled walkers, making them the best choice if you only require little balancing support.
Three-Wheeled Walkers: Speed and mobility are two advantages of three-wheeled walkers, and many have folding options. A three-wheeled walker is probably not ideal if you want a chair. You can prevent tipping or leaning by keeping the walker close to the front of your body and stepping into it as you drive it forward rather than allowing it to get too far ahead.
Four-Wheeled Walkers: A four-wheeled model may offer the characteristics you need if you want balance support and an integrated stool for quick breaks. A four-wheeled rollator typically costs more than other options as well.
For further details, including tall walkers for taller elders, on several types of walkers for the elderly, click here.
NOTE: Walkers can provide the required stability and balance for seniors who require some movement aid but do not need the complete support of a wheelchair.
Things to Consider When Buying a Tall Walker
There are many different sizes and styles of walkers and rollators. But it's crucial to choose the right walker for your needs.
There are several things to take into account that could affect your senior's experience, such as:
Weight: You don't want your senior always to raise a walker, but you also don't want it to be too light. A decent weight distribution will ensure that your elderly relative can raise and maneuver the walker while maintaining good durability for long-term use.
Handle Height: Look for a walker with an adjustable handle at least an inch higher and lower than that. Otherwise, your senior may be forced to bend down, and if the handle height is too high, they will have trouble moving their weight to their arms. You may be surprised at how tiny changes in the handle height of a walker can impact the user's body. A few inches in the wrong direction, whether up or down, can mean posture problems and difficulty using the walker.
Width: A walker that will be used within your home must be able to pass through the doors and entrances. If it has one, you should leave about an inch or two of room on either side of your walker's chair.
Seat Height: When looking for rollators, measure the seat's height to ensure that the person can easily get in and out of it. Keep those dimensions on hand to verify online or inquire at the store. Taller individuals can also be accommodated because some rollators' heights may be adjusted.
Weight Capacity: Most walkers, if not all, have a limit on how much weight they can support. Although certain brands make walkers that can support up to almost 500 pounds, this might be between 250 and 300 pounds for various models. Make sure you have all your numbers and measurements accurate before purchasing a walker because taller people tend to be heavier.
Folding or Portability: Most walkers may be folded for storage or transit, though some models tuck more easily than others. Some walkers feature baskets that must be taken off before folding. You'll want a walker that breaks down to a more manageable, compact size if you have limited storage space in your home or need to carry the walker into and out of a car.
Large Wheels: The center of gravity of taller people is higher than that of shorter people, without going too technical in a physics lesson. They are more likely to trip and fall as a result. Small wheels are more prone to become impaled on objects like rocks, thick carpets, or road fissures. Thus, you want the biggest wheels you can find.
Pricing: Price is a crucial consideration when making any purchase, but it is especially crucial when prioritizing a senior citizen's health. Depending on your type, a walker could typically cost anywhere from $40 to $150. Standard or conventional walkers are the least expensive, whereas rollators are the most expensive.
Frequently Asked Questions (FAQs)
Here are some of the most often-asked questions about tall walkers that are suitable for a taller person and some related questions in case you can't find the answers you're looking for.
Are Upright Walkers Better for Seniors?
It is unquestionably a better option when you seek safe and pleasant walking.
Seniors and patients with arthritis, neurological, balance, rehabilitation, cardiovascular, and pulmonary issues are more independent thanks to it. You can find our most recommended upright walkers here.
How Far Should a 65-Year-Old Walk Daily?
The average daily step count for older adults in good physical condition is between 2,000 and 9,000.
It equals one and four and a half kilometers of walking, respectively—the health benefits of increasing the walking distance by around a mile.
What Is the Purpose of the Ski Glides on Walkers?
Each ski walker inserts into the back legs of wheeled walkers to provide a smooth glide over most surfaces, including grass, cement, and more.
Summary
The list above of the top 10 tall walkers for seniors shows the best price, value for money, and overall rating.
Below, here are the 3 most recommended walkers for tall persons based on budget, value, and best overall criteria.
Best Budget: ELENKER Upright Walker, Stand Up Folding Rollator Walker
One of the cheapest walkers on the market! For taller elderly persons on a budget, the ELENKER Walker can be the ideal choice.
Best Value: U-Step 2 Nuero Standard Walker
Best investment! With this special walker's improved maximum stability, you or a loved one may stroll without fear of falling and keep your freedom.
Best Overall: Drive Medical Nitro Euro Style Walker
Among the 10 walkers described above, it is the best for seniors. For more details, you can look at our article on the best walkers for elderly here.
Conclusion
For older people, walkers are a crucial piece of durable medical equipment. It cannot be easy to find walkers for seniors because many are made for short to average-height folks.
However, it's not impossible, and I hope this list has been useful.
For your senior to select the tall walker they feel most comfortable using, if at all feasible, attempt to investigate and test as many walkers and rollators as you can.
Finding a tall walker that fits a tall person with adequate space to move around while remaining comfortable should be possible because most walkers span a wide height range. If you don't want to buy online, you can find a list of stores where you can buy a walker locally here.