Caregiving duties can be exhausting at times.
You sacrifice a huge portion of your time. And you exert great amounts of effort and attention.
However, there are instances where you need to do errands on your own. You might also need to take a break and recharge from caring for your elderly family member.
But you can't just leave the senior behind, can you?
That's where elderly companion sitters come into play.
They can fill in your shoes while you or the professional caregivers are away.
What Do Elderly Sitter Services Do?
Many seniors are not capable of leaving the house. With their old age and health conditions, they barely manage to do daily activities independently.
With senior sitters and senior sitter services, you can be at peace that your elderly loved ones are being taken care of while you are away.
They provide assistance and basic support to elderly people.
They offer regular companionship to your elderly family member, so they feel less lonely and isolated.
The elderly can enjoy a friendly conversation with their senior sitter in the comfort of their own home.
Other Tasks of a Senior Sitter
The duties of senior sitters also involve basic care needs that seniors need to do regularly. These include:
Preparing meals
Household tasks
Running errands
Grocery shopping
Medication reminders
Light housekeeping
Cost of Elderly Sitters
Private sitters can sometimes cost a fortune. Some families can't afford to hire private sitters for their elderly loved ones.
According to CareScout, in their cost of care survey, the AVERAGE COST of in-home care is $4,051. But often, how much you pay varies with what your loved one needs.
Do they need companion care 24/7 or every weekday? Do private sitters need to render a certain number of hours?
In-home care costs could also vary based on the state where you live.
Some states can charge as HIGH as $5,339 on average, while others are as LOW as $3,537 monthly.
What Is a Companion Sitter?
A companion sitter is a non-medical caregiver who provides basic support and aid for your elderly family members.
They provide in-home care services for elderly people alone in their homes.
Senior sitters only offer basic personal care because they are not medically trained.
This can include running errands, light housekeeping, feeding and bathing seniors, and assisting in activities of daily living.
But the MAJOR ROLE of a senior sitter is companion care. Senior sitters serve as the senior's friends and confidantes.
They fill in the shoes of family members busy with their day jobs and other responsibilities.
Senior sitters make conversations with your elderly family members. And they'd sometimes do tasks together to keep the seniors entertained.
What Is the Difference Between a Sitter and a Caregiver?
As previously mentioned, senior sitters are non-medical caregivers. Hence, they can't give medical care services to the elderly.
Senior sitters can only provide BASIC care services. And they are more likely to focus on in-home care.
On the other hand, medical caregivers can administer medicine to patients and have physical contact with them.
If the older adults in your home need advanced care, it is best if you get them certified home health aides instead.
How to Become a Sitter for the Elderly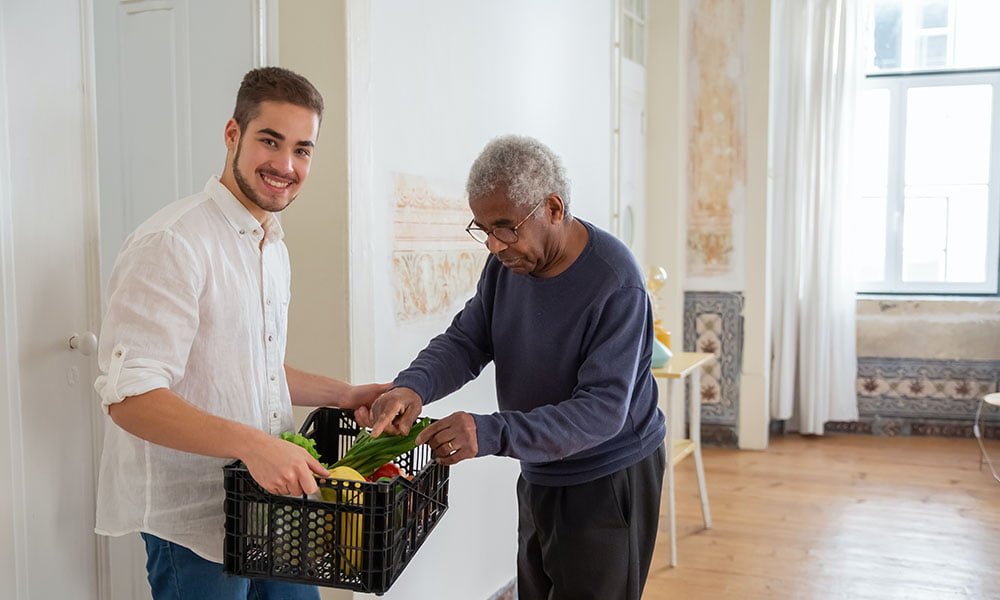 Becoming a companion caregiver is not as simple as being a friendly person.
Although you need to have a positive attitude to deal with your clients, you still need to meet minimum requirements.
To become a companion caregiver, you need to have a high school diploma and a General Education Development (GED) Certificate.
Some clients also like it if you know how to perform basic first aid and possess basic life-saving skills.
If your client requires you to drive, you must have a driver's license and a clean driving record.
Benefits and Drawbacks of Being an Elderly Sitter
Before you get companion care services for elderly family members, it is important to weigh the pros and cons first.
The benefits and drawbacks of hiring private sitters can help you figure out if this is what suits your needs.
Pros of Getting Private Sitters
Get time-offs. Sometimes, taking care of older family members can be tiring. With private sitters, you can go on vacations or holidays without worrying that your loved one is home alone.
Get hold of your schedule. Being a family caregiver can be a full-time job for life, so hiring private sitters can lessen the time needed for supervising. You can do errands and other tasks with their help.
No need for senior care facility admission. As much as possible, you want your senior living with you and not in care facilities. With private sitters, the elderly can stay in their homes even when you're away.
Constant companion care for older adults. Senior living can get lonely, so they might seek companionship every once in a while. Having private sitters around can ensure that seniors feel entertained and befriended.
Cons of Getting Private Sitters
Expensive. Hiring private sitters can be over your budget. Hence, you need to evaluate if your family can shoulder the expenses of getting companion care.
Not suitable for all seniors. The capacity of private sitters is limited. If the elderly needs long-term care due to an illness or health concern, it is best if you consider a certified nursing assistant or other healthcare providers.
Conclusion
Many seniors are no longer capable of caring for themselves alone. And they have less capacity to perform daily activities.
Hence, leaving them for long periods is not ideal. A senior living alone can suffer from injury or loneliness.
The assistance of private sitters can make you feel secure that your loved one is safe and well-taken care of while you're away.
If you want to get in-home care assistance for seniors, you can check with your local office.